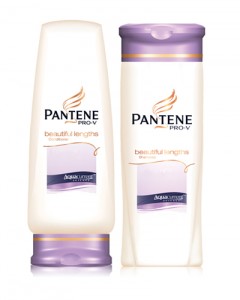 I might have mentioned this in some of my earlier hair trend posts, but I've been trying to grow my hair out since last August. I had my last "real" haircut (the boyfriend's awesome mom trimmed my ends/bangs last month) in July, then decided I missed my long locks and started letting the mane go au natural.
I've been working really hard to keep my hair healthy & happy so I don't lose any length to damage. *Cue Pantene's genius.* Pantene's Beautiful Lengths line is totally rocking my world!
"The collection uses breakthrough Aquacurrent moisture-movement technology to promote healthy hair in both wet and dry states. Its unique wet conditioning ingredients create a smoother surface to help strengthen hair against breakage while it is still wet."
I'm not entirely sure what that meant-but I totally agree! I have seriously noticed an improvement in my hair's vitality and strength since I started using Beautiful Lengths a few weeks ago. I'm experiencing significantly less snapping, healthier roots, and dare I say-faster growth? That's not one of Pantene's claims, but I think that the overall moral boost to my hair is totally speeding up the growth-process.
Here are some other facts about the shampoo & conditioner:
~ Gently cleans hair to help remove residue and build-up
~Utilizes Aquacurrent moisture-movement technology to leave hair looking healthy and protect against breakage and damage in both wet and dry states
~Leaves hair up to 10X stronger against breakage versus non-conditioning shampoo alone
~Smart Membrane Technology provides moisture for dry hair by "wrapping" around each strand to impede the absorption of humidity and make hair less susceptible to frizz
~Formula includes silicones to lower the friction between the hair resulting in smooth healthy hair with fewer tangles and less breakage
~Conditioning technology forms a gel network throughout hair to provide a rich and smooth feel from root to tip
~Terminal amino silicones helps conditioning ingredients adhere to hair more efficiently
While you're picking up your new hair's new best friends, also check out the Split End Prevention Leave-In Cream. It's an added boost of moisture that will keep hair happy-and prevent you from losing frazzled ends to those haircuts you want to avoid!
Each product has a suggested retail price of $3.99, and can be found wherever you normally stock up on your Pantene goodies. If you prefer to shop online, Drugstore.com has got your back!