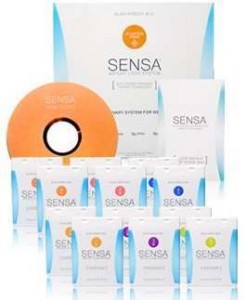 Hey ladies! I hope you had a wonderful weekend. The boy and I spent some time enjoying the lovely weather, and I had a job interview (*fingers crossed*)! I also spent some quality time with my new friend, the Sensa Weight Loss System.
This post is the first in a series about the Sensa system, as I want to tell you guys what it is, and then keep you updated on how I think it works. Don't worry, it won't be an everyday thing you have to scroll by if you're not interested-just two or so times a month to updated you on my progress and share my thoughts!
So, getting down to business-what is Sensa? Creator Dr. Alan Hirsch sums it up pretty well: "Sensa works with your sense of smell to curb your hunger without affecting the taste of your food. This induces something called 'sensory-specific satiety.' It makes your brain perceive that you've eaten more than you have and, thus, you eat less and lose weight."
The actual product comes in the shakers in the photo-it's a tasteless powder that comes in sweet or salty. You shake the appropriate selection on food before consumption and it's supposed to stimulate your senses in a manner that will make you feel full faster and thus help you start eating smaller portions. Basically, it's a way to change your diet without even thinking about it! Well, not change, per se–you can still eat whatever you want. Sensa will just help you feel satisfied by less of it!
As for the effectiveness, I haven't been using it long enough to really know. However, here's what the website says: "Over a 6-month period, 1436 women and men between the ages of 19 and 55 who sprinkled Tastants on everything they ate lost an average of 30.5 pounds. No other weight-loss product has such extraordinary clinical results." The Fashionable Housewife has been using Sensa for the past few months; you can read all of her posts about Sensa (and see her adorable bikini pics!) here. She's just about finished with her six month trial, so if you're hungry to hear about results, definitely check her posts out.
And what about me? Well, honestly, I'm still trying to remember to put it on everything! I've been using Sensa for about five days and I'm getting about 80% of my food covered-however, it's really made me notice how often I reach for quick little snacks… A couple potato chips here, a mini rice cake there… At least now I'm starting to think, "Damn, I need to put Sensa on this!" and just skipping the snack rather than going and grabbing the shaker.
I haven't noticed a difference in how much I'm eating, but the program info says that it's normal. In fact, apparently men lost weight sooner but women lost it faster-just later on into the program. I'm really hoping for that 30-pound loss! My actual overall goal is about 60-pounds, and I'm hoping Sensa will help give me that extra kick I need!
If you're interested in trying Sensa out for yourself (I'm betting if you read The Fashionable Housewife's posts you will be!), you can get the Starter Pack here. The price is a little hard to swallow (discounted to $235 right now) but results are results! And, if you opt-in for the auto delivery program, you'll get you refills for only $33 (delivered every 180 days).  ALSO, if you use code "ROCKETXL" you'll receive 15% off your order and free ground shipping!
So, what do you think?