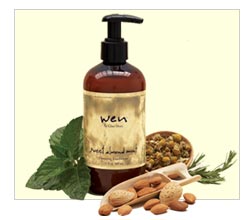 I feel like every time I turn on my TV, I see an infomercial for Wen by Chaz Diaz.  Every commercial involves limp, low sheen hair becoming sexy and voluminous-a Carmen Electra sort of mane that inspires the tight lipped envy of every female viewer.  That included me, of course.
After a few weeks of searching, I finally scored a bottle of Sweet Almond Mint from a user on Makeup Alley.  Since a full size bottle costs $28 (ouch!), I really wanted to do the whole "try before I buy" thing.  Boy am I glad I did!
Normally, I hate products that don't lather-but I was prepared to give Wen a pass on that, because I knew that Wen contained no sodium laurel sulfates (the ingredients that Chaz say harm hair).  However, the lack of lather was the least of my issues with the product.  I'll give you a quick run of the experience!
When I first got into the shower, I was really excited to cut down my routine time by only having to apply one product to my hair-after all, when is a "cleansing conditioner," so the typical shampoo isn't needed ahead of time.  The bottle's directions recommended sixteen to twenty pumps, and I was surprised to find that I actually did need at least sixteen to fully coat my short bob.  I suppose that had mostly to do with the fact that the product doesn't foam, but for $28 a bottle, I'd like it to last a long time!
Since I applied Wen to my hair as soon as I wet my hair, I rubbed it in and left it on for the rest of my shower.  I enjoyed the sweet almond and mint smell; it was light enough not to overpower me, but strong enough that I could definitely enjoy the definite blend.  Unfortunately, that's where my enjoyment ended.
As soon as I stepped out of the shower, I knew something was wrong.  My hair is extremely curly-though not in the tightly wound way my boyfriend's is.  Normally, as soon as I towel dry it, the twisting starts.  However, after using Wen, my hair felt limp-fine, even.  I had hope that my hair's new texture meant that it would dry smoothly-I could finally give my flat iron a break!-but it only seemed to shrivel as it dried…  Seriously, not EVER a word I want to use to describe my hair!
When I realized that my hair was now bent on being flat (no pun intended!) I did the usual; I flipped my hair upside down and hit it with my blow dryer.  No luck.  Hair spray?  No difference.  I must have tried five different products before I finally gave up.  Even the next morning my hair was flat, even though it's usually very 80's metal when I wake up.
Bottom line?  This is one of those situations Wen you're better off saving your money.  Seriously, grab a bottle of Johnson & Johnson Kid's Shampoo.  It's only $2, and it makes my hair feel a heck of a lot better!