If you've been doing your Beauty Homework, you know that once again, the smoky eye is coming into style.  And, as thick as the season's eyeliner may be, the raccoon eye will just never be a sexy look.  In honor of clean under-eyes everywhere, I bring you my two favorite makeup removers!
When I first started working at Estee Lauder last year, I really couldn't find a single product that caught my eye.  I know most of my problem was the gold packaging-I have a serious bias in support of silver.  However, all the products seemed clunky, chalky, or otherwise undesirable.  I know, I know, the middle aged crowd will probably have my head for saying so…  However, that was just how I felt!  And, after hours of swatching different shades on my hands for every indecisive customer, I needed something to take the blush, eyeliner, and lipstick off my hands.  Enter:  Estee Lauder Gentle Eye Makeup Remover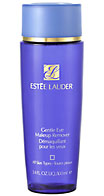 .
My guess is that the subtle blue bottle is the reason I missed out on this product for so long.  I'd already tried Clinique's makeup remover (it was the counter across from me) and was left with oily, irritated lids.  And, since I'd foolishly dismissed all of Estee Lauder's offerings, I didn't even bother trying their makeup remover.  Fortunately for my eyes, one night I was forced to chose between the blue bottle of makeup remover, or the blue bottle of counter cleaner.  I'm pretty sure I made the right decision.
Estee Lauder's Gentle Eye Makeup Remover is just that-gentle!  However, the delicateness of the formula doesn't adversely affect its efficiency…  In fact, it works so much better because of the "soft" formulation!  So, when it comes time to strip the layers of black shadow before bed, this is a product that you should definitely have on your shelf!
Now, for those of you who've found yourself continuously disappointed (or angered) by liquid makeup removers-or who just don't dare a foray into the the heavily powdered world of Estee Lauder-I bring you another suggestion.  Bliss Lid + Lash Wash is another Makeup Alley score, and unlike Wen, it's a product that I'll replace when I run out.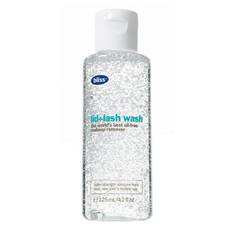 Lid + Lash Wash (yes, the plus sign is actually in the name) is a genius gel formula makeup remover.  In the bottle, it almost looks like carbonated water…  However, it feels much more soothing on the eyes than soda ever could.  Don't feel limited to your pumped up peepers, though!  Since I've yet to discover a perfect makeup remover for my face (more from a lack of trying than anything else) I jumped right in and dabbed a little on my lips and cheeks.  Viola!  Makeup free…  although that might not have been a good thing.
In any case, this $14 bottle is going to last me a looooooong time-even considering all the drama the coming trends will be bringing to my face!