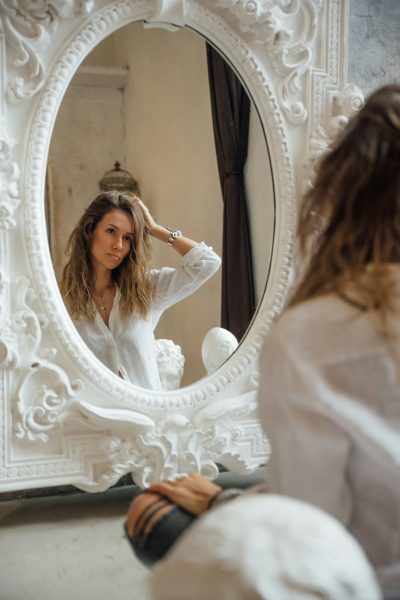 While it's normal for our confidence levels to fluctuate on a daily basis, a recent study found that nearly one in ten Americans avoid looking in the mirror as they feel self-conscious about their reflection. 
Fortunately, there are many steps you can take that will boost your confidence and help you to fall in love with your reflection!
Practice being kinder to yourself.
The first step towards feeling more confident, not only in relation to your appearance but within all aspects of your life, is to be kinder to yourself. Stop comparing yourself to unrealistic beauty standards, and recognise that what makes you different is what makes you beautiful.
While this can seem easier said than done, there are many ways in which you can begin to stop negative thoughts in their tracks. For example, you can begin by standing in front of the mirror each morning and reciting three positive things about yourself, making sure at least one of these affirmations is appearance-based.
Hit that unfollow button.
Various studies have found that social media can be a real confidence killer, especially if we are constantly comparing our appearance to the edited selfies and pictures we see on our social media feeds. If this is something you are struggling with, it's time to be more intentional when curating your feed, meaning you need to unfollow influencers or those who make you feel bad about yourself.
Invest in beauty and wellness.
Investing in beauty and wellness tools can also do wonders for your confidence, as when we look good, we tend to feel good by extension. Furthermore, this also encourages us to invest more of our time and energy into self-care.
There are, of course, hundreds upon hundreds of beauty products to choose from, which means you should do some research ahead of time to ensure you're spending your money wisely. For example, if you want your hair to look fuller and thicker, you might want to start using a scalp revitalizer, which can encourage hair growth. When used in conjunction with high-quality shampoo and conditioner, this can leave you with healthy, luscious locks all year round.
Develop a skincare routine.
While you may have already perfected your make-up routine, it's important that you also feel confident when bare-faced. After all, there will be some days when you simply don't have the time or energy to apply make-up. This can easily be combated by curating a simple skincare routine that combats a range of issues, whether you're dealing with dry skin or trying to prevent the signs of aging.
When it comes to skincare, remember that less is often more. This means you don't need to use 100 different products. In fact, you can likely achieve the results you are looking for using face wash, cleanser, toner and moisturiser alone!
You should also ensure that you are as consistent as possible when it comes to maintaining your routine, as this will allow you to see the benefits more clearly, whereas inconsistency means you could deal with breakouts or other complaints more frequently.