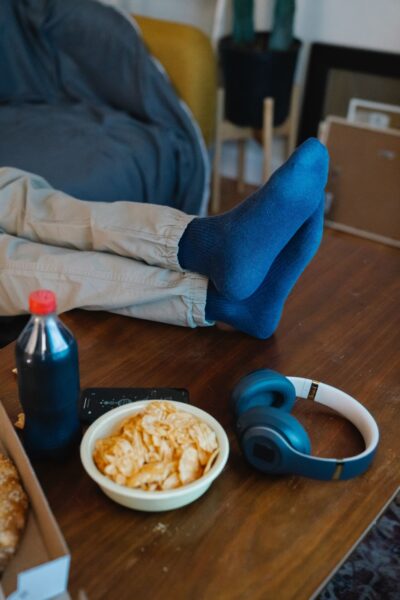 Deep vein thrombosis (DVT) is a blood clot that develops within a deep vein somewhere in the body (usually the leg). It can be potentially life threatening, however can usually be treated with medication. About 1 in 20 people will develop DVT at some point in their life. The following post offers 5 tips for living with DVT.
Keep moving
DVT can often develop as a result of a sedentary lifestyle. Constant movement can help to keep blood flowing around the body. Therefore, to help treat DVT (and prevent it returning in the future) it's worth getting into a habit of regularly taking breaks to get up and walk around. Fidgeting can also prevent DVT – constantly moving your feet as you're sitting (such as tapping your feet or moving them in circles) will help to keep blood flowing.
Take extra care during flights
The air pressure on a flight can cause our blood to further coagulate. It's a common cause of DVT and can cause serious problems for those who are already dealing with it. If you have DVT and you are taking a flight somewhere, make sure to keep your feet moving as much as you can throughout the flight. This includes getting up and taking a walk when you are able to (even if you don't need to use the bathroom).
Wear compression socks
Home health care supplies such as compression socks can help to treat and prevent DVT. They work by providing pressure, which helps to promote healthy blood flow by pushing blood back up the leg. Most people with DVT are prescribed compression socks by a doctor. If you are not prescribed them, you can always buy them online cheaply. Always wear these on a plane if you have DVT.
Avoid cuts and scratches
Anticoagulant drugs are typically prescribed to treat DVT. These cause the blood to become thinner, which can help to reduce clots over time. The downside of this is that it can stop blood from clotting when you need it to – such as when you get a cut. Wounds may continue to bleed unless you plaster them up straight away. For this reason, you should take steps to avoid cuts and scratches. This could include switching to a safer razor when shaving and covering up your skin when going on walks where you may get grazed.
Stop smoking
Smoking is thought to be a major cause of DVT. It reduces blood flow around the body and causes blood to clot more easily. To help prevent future blood clots, consider trying to give up smoking. Combined with regular exercise and a healthy diet, quitting smoking could help to return your blood flow to normal. This could have all kinds of other health benefits such as improving skin health and eye health.