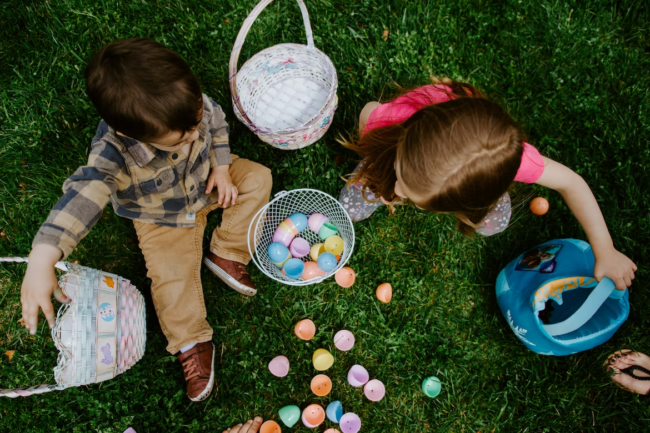 Although you may have celebrated a virtual Easter a few years ago, now is your opportunity to do it in person with friends and family. Easter is an exciting time for kids especially, since they get chocolate and maybe even a gift or two. But, if you're making a big Easter dinner for the whole family, you need to keep them busy. If you're unsure how to do this, check out these exciting easter activities for your kids.
Easter Egg Hunt
There is arguably nothing better than an Easter egg hunt to start off the day. Not only does this build anticipation, but it also means your kids don't immediately dive into their eggs the moment they wake up. You can hide eggs of various sizes around the house and even in the garden, giving a prize to whoever finds the most (but also giving prizes to everyone else, too).
Egg Painting
If your kids find all the eggs in record time, you can introduce them to the fun of egg painting. Buying a set of paints and hard-boiling your eggs before Easter gives them the chance to indulge in their artistic side. The fun part about this is that anyone can do it, and you can display them proudly on the mantle over the Easter break.
Learn More About Easter
Easter isn't all about stuffing your face with chocolate. It is a story that stretches back 2000 years. Your kids may know the basics, but sharing the fascinating history of Easter eggs with them, as well as a few other interesting details, will give them a brand new appreciation for the holiday and help them recognize that there's more to life than candy.
Easter Crafts
There is no limit to the number of Easter crafts you can do at home. These crafts all depend on what you have available and what your kids are capable of. Paper plate bunnies, felt eggs, or even an Easter egg sun catcher are possibilities that can meet your kids' various skill levels to ensure everyone has a good time.
Coloring Pages
Your kids might not be old enough to paint or search around the house for Easter eggs. If you're looking for activities for toddlers, coloring pages from Crayola will keep them occupied while you attend to everything in the kitchen. These activities are free, and you can print off as many as you need to cover a wide range of aspects surrounding Easter.
Countdown Calendars
The countdown calendar is an advent calendar, just brought forward a few months for Easter. Of course, you can't (always) find these at the supermarket, but you can make one yourself. Buy a few soft pouches and hot glue them to a surface; number them and fill them with mini chocolate eggs. Each morning, your kids can find the right day and pick out a snack to have after breakfast.
Playing With Paint
Paint is a simple but effective activity, and doesn't just need to be painting eggs. If you don't trust your kids to handle the eggs, they can create patterns with cut-out foam shapes, such as rabbit heads, carrots, eggs, and more. It will be messy, so put old newspapers down before they start mixing colors.
Word Games
Everyone loves a word challenge, and word scrambles are one of the best ways to wind down after sufficiently devouring everything on your plate. These pages will force your kids to think more carefully about the composition of words and consider how they relate to Easter. If they find it too easy, you can make it into a timed challenge that will test their skills under pressure.
Games and Prizes
If you're throwing an Easter party, you'll want to send the kids home happy and with something to celebrate the occasion. Games and prizes are fantastic ways to achieve this. Consider ideas like Easter Bingo or Pin the Tail on the Rabbit to keep the party running smoothly.
Something Cozy
Making a keepsake from the holiday is an excellent way to remember the good times. Something cozy like fleece bunnies is arguably the best option for your Easter plans. These cute and cuddly creations will consume plenty of time and give your kids something to cherish for many years. If you have other kids over, they will have something to take home or even give to their grandparents as a present.
Fun For Everyone
Easter activities should be fun, and although most of these are geared toward kids, they offer something for everyone. As long as you have someone to supervise them during their trickier crafts, it's bound to be a success.