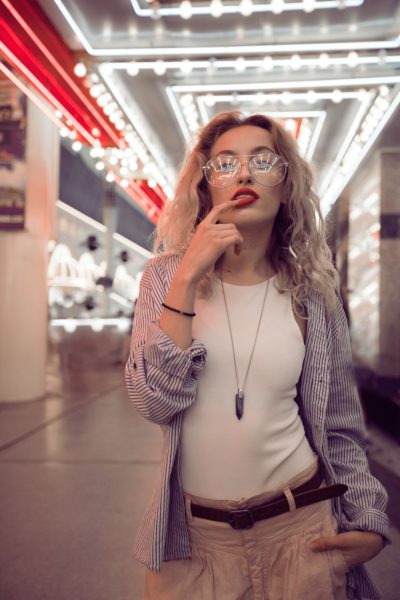 Every woman needs at least one bracelet in her jewelry box, if not more! Bracelets can be dressed up or down to match any outfit, and they're extremely versatile—you can wear them with most pieces in your wardrobe, from dresses to tops and even jeans. To help you select bracelets that will add the right touch to your spring wardrobe, here are five different types of bracelets that are must-haves this season!
Simple gold or silver bangles
For a classic and versatile option, select simple bracelets in gold or silver. Try stacking bangles from different arms to create a chic yet sporty look that can be worn with any outfit. Smaller, daintier bangles are perfect for wearing alone on one arm, or you can even stack them altogether if you have small wrists and forearms—just make sure not to go too big and bulky! If you're looking for something bolder but still classy, try adding some jeweled accents like onyx and turquoise—these will add pops of color without being overly in-your-face.
A wrap bracelet
Wraps are one of those versatile bracelet styles that go with every outfit. They can be as simple or as glamorous as you want them to be and they provide a refined and elegant look that never goes out of style. This is one of those bracelet styles everyone needs! We recommend purchasing a higher-quality wrap, made from rose gold or yellow gold plating because it will go with any wardrobe and last much longer than cheaper metals. This style is considered to be a chunky bracelet and has long been in style so you should own at least one of these for your spring wardrobe-essentials. Not only do they make an enormous statement (which is great if you're into bold statements) but they're also super easy to wear in your day-to-day life.
An intricate cuff bracelet
A versatile bracelet style that's perfect for your spring wardrobe. This type of bracelet is not only great to dress up your look, but it also doubles as a functional piece if you are an active person. And who doesn't love something they can wear day to night? These bracelets come in many different styles and colors and can be worn with everything from a casual outfit to business attire. They make excellent gifts for friends and family members because everyone needs a good cuff bracelet in their life.
A stunning bangle with a face
If you're looking to buy a new bracelet that will complement your already-existing jewelry, a great option is to go with a bangle. Bangles come in different sizes and can fit all sorts of occasions, from work meetings to special nights out on town. A great thing about bangles is that they can also be worn as stand-alone accessories; if you're wearing something more formal, just wear one bangle on each wrist (no need to put both hands in sync!), and you'll still look fabulous. The best part about bangles? They have faces. No, really—they do!
Beaded bracelets in unique styles
Beaded bracelets are a great way to spice up your spring wardrobe. Beaded bracelets come in many styles and colors, so you're sure to find something that complements your look. There are classic, geometric bead bracelets, hammered metal beads, and even bohemian-style ones that have a bit of shimmer or glimmer to them. Beaded bracelets come in a variety of widths and lengths; however, most measure between 7-10 inches in length with an average width of 1 inch. All can be worn on their own or paired with other pieces from your jewelry collection for an added pop!
Some of these bracelet styles may not be on your radar but they are sure to work with any piece you've got in your wardrobe. When you add a quality fashion accessory like a new bracelet to your personal style, it can be impactful enough to make or break an outfit. Let them help pull everything together and make spring that much more enjoyable!