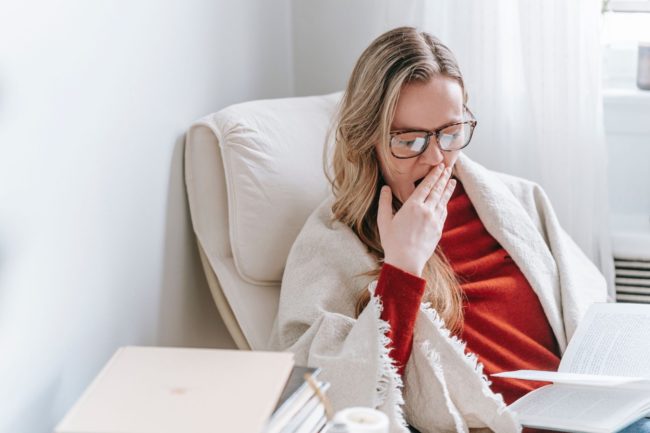 One-third of adults, teenagers, and the elderly suffer from constant exhaustion, according to new research. It's not uncommon, and it's possible that you're one of them. To make matters worse, fatigue is an indication that you may be suffering from one or more medical disorders, therefore it's essential to see your doctor if this is the case.
In most cases, it is not a medical problem that is to blame for the sleepiness; it's your way of life that's the problem. There are several ways in which our bodies tell us when we aren't taking care of ourselves, and when we're feeling tired all the time, that is certainly one of those ways. It's a sign that we need to look more closely at what we're doing. In most cases, however, resolving this tiredness issue is a matter of following a few simple steps. Continue reading to learn why you're exhausted all the time and what you can do to stop feeling that way.
Living A Sedentary Lifestyle
It's surreal to consider that your chronic fatigue might well be caused by a lack of physical activity due to a sedentary lifestyle. You may think that a lot of movement and exercise would make you weary, but it's frequently the other way around, and as a result, many individuals don't exercise regularly because they're too exhausted to do so.
Because your heart isn't pumping as hard as it should be, you'll be more exhausted than if you're always moving and doing things. As a result, the organs and brain must reduce their activity to a level compatible with the quantity of oxygen you are using. The effect is tiredness. Keep up your daily workout routine if you want to feel more alert. As your body adapts to the increased demand for oxygen, you'll notice a decrease in fatigue.
Not Getting Enough Quality Sleep
It stands to reason that not getting enough sleep would leave you exhausted all the time, but it's less about the quantity of sleep you receive and more about the quality of that sleep. If your sleep is of high quality, you can sleep for considerably less time and yet feel fantastic the following day. You will feel energetic and rejuvenated after a good night's sleep, and it will make a significant impact in your life.
Quality sleep signifies that your brain has completed all five phases of the sleep cycle and has produced the appropriate hormones to repair and renew your body. To achieve adequate sleep, you should be physically active throughout the day, maintain a decent sleep pattern and a routine that includes going to bed at the same time every day, and, if necessary, nap during the day. Make an appointment with your doctor if you are still experiencing problems sleeping. One of the issues that can cause a lack of quality sleep is low testosterone, and it can be worth discussing the benefits of TRT (testosterone replacement therapy) to see if this would help.
Food Sensitivities
Most of the time, the signs of any food sensitivities you may have are clear. They include (among other things):
Stomach discomfort and cramps, as well as other digestive issues
Hives
Headaches
Rashes
Sneezing and a runny nose
However, tiredness is another sign of having a food intolerance that is sometimes disregarded. Dairy, gluten, soy, and eggs are some of the most frequent food allergies, but there are plenty more, and it's possible that you have an intolerance and aren't aware of it. There are tests that can be performed to determine whether this is the case. You can then work with a nutritionist to keep you healthy while eliminating the items making you ill.
Inadequate Hydration
When you are adequately hydrated, you will have much more energy, and as we have previously seen, this means you will be able to do more regular exercise and hence sleep better. Most individuals are dehydrated in some form, and many are chronically dehydrated, which means they have become so used to going without water that they no longer feel ill as a result. This is a risky condition to be in because it can lead to a variety of issues, including fatigue.
The conventional wisdom is that you should drink eight 8-ounce glasses of water each day, but this is merely an average; you may need more or less based on several variables such as your age, general level of activity, gender, and weight. It's best not to wait until you're thirsty to get a drink – always have a water bottle with you and sip on it constantly, as this will prevent dehydration much better than drinking a lot of one go and then going without.