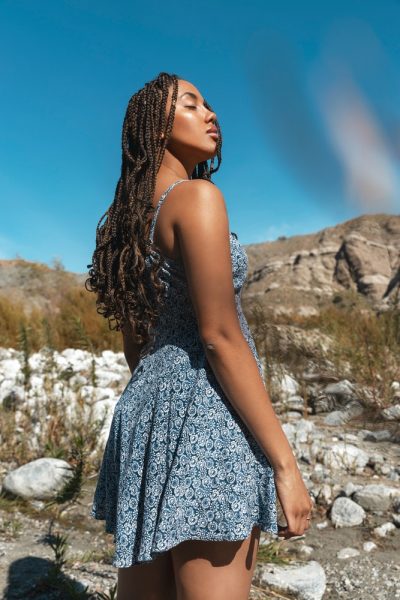 Now is the time to think about what to wear for the hottest days of summer. Whether you're planning on taking a vacation or hoping to look fresh to death all summer long, it's important to stock your closet with summer essentials. Read on for eight of the best trends of summer 2021.
Sexy Sundresses
It's official! Sundresses are the hottest look of the summer. Now that it's almost time to put away your jackets and boots, it's a good idea to start shopping for your favorite dresses. As sundresses are a summer staple, they're a must-have for any closet. Try prints, bright colors, patterns, and graphic designs for a sundress look that's truly unforgettable.
Whether you're sipping coffee at a cafe or heading to a music festival, sundresses are the perfect look for your next adventure. Shop for new dresses or bring back your old ones; this look is light, airy, and perfect for sunny days.
Get Creative With Crochet
Summer is always so hot and humid, which can make it difficult to stay stylish. Thankfully, that doesn't mean you have to give up your favorite looks. Get creative with crochet this summer for a different take on the season. This versatile style makes every summer staple irresistibly adorable.
From crochet bikini tops to one-of-a-kind skirts and dresses, this style is ideal for an effortless, breezy feel. Complete your crochet look by adding on your favorite colorful bracelets or necklaces for a completely bohemian vibe.
Bold Bandanas
Bandanas are the unsung hero of summer 2021. As the perfect mask material, these coverups are also excellent as accessories for your hair. Whether you're going for an androgynous look or sticking to a more feminine style, there are tons of classic and timeless bandannas to wear this summer.
Try rocking a bandana around your neck with your favorite shirt or dress to instantly amp up the '90s vibe. Likewise, you can create a new take on a '70s style by pairing bell bottoms with a loose blouse and combat boots. Don't forget to finish off your look with sunglasses as the sun isn't going anywhere this summer!
Strappy Heels
We might still be a few months away from summer, but it's never too early to start planning your looks for 2021. One of the most trending styles this year is strappy heels. While they were popular in spring and fall, you'll also want to wear them all summer long.
Sheer Mesh
Sheer mesh is another style choice that makes summer feel just right. With warm weather around the corner, now is the perfect time to fill your closet with the lightest and most comfortable fabrics for the season. From sheer dresses to see-through shirts, this style is a summer favorite for a reason. Whether you're visiting the beach or vacationing in the countryside, the sheer look will keep you cool.
String Bikinis
Bikinis have always been a summer must-have, but the latest string bikini trend is one you'll want to invest in for 2021. String bikinis are hot right now and are sure to be one of the biggest trends of the year. Whether you're on the go or out on the town, owning a string bikini is a must.
These bikinis make it easy to keep convenience in mind this summer. If you don't have one already in your arsenal, now's the time to change that! Try mixing and matching your favorite swimwear with patterns and prints that will make any outfit a knockout.
Boyfriend Jeans
A classic summer look like the boyfriend jean never goes out of style. These laid-back pants are perfect for hot weather, especially if they're ripped and distressed. No matter what your style, you can wear boyfriend jeans this summer. They are easy to rock with any top and look chic paired with a killer heel or strappy sandals.
You don't have to wait until summer to start updating your wardrobe with the hottest trends and styles! Make sure your closet is ready for the coming months with these eight classic looks you can rock this summer.