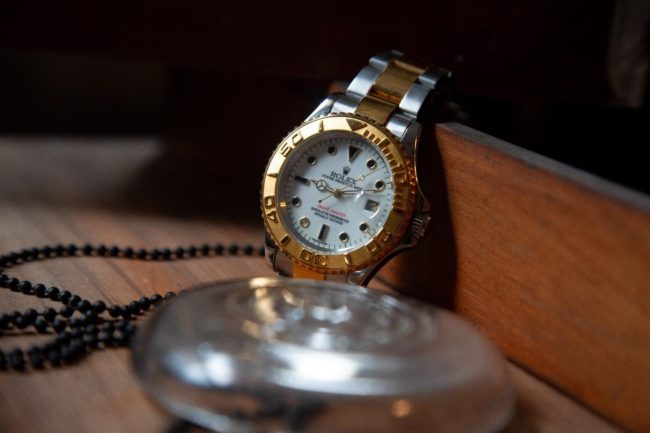 There are many avid collectors of fine Rolex timepieces and this very successful Swiss watch manufacturer has been creating superbly engineered luxury watches for many years. Of course, there are other fine watch makers, yet many people collect only Rolex and there are so many series and models, you won't run out of timepieces to add to your collection.
What Determines the Price of a Vintage Rolex Watch?
When looking at elegant vintage Rolex watches with a view to purchasing, the model would have a market value – a trade price for a model that comes with full-service history and ownership details. Of course, some models are rarer than others, with models that were made in small numbers being very coveted and if you are looking to add to your collection of Rolex watches, the online antique dealer would be the person to contact.
Excellent Condition
In order to attract top prices, the timepiece would have a complete service history, complete with official Rolex approved stamps in the logbook, along with the different owners. If you would like to have your Rolex collection serviced, the local antique dealer would have an association with a Rolex service engineer who would be happy to carry out the work. If you do not service the watch as per recommendations, it will affect the value of the timepiece, so do keep the service record up to date.
Rarity
As you would expect, the rarity of a Rolex model has a lot to do with its market value; models such as the following are very expensive:
Paul Newman's Cosmograph Daytona
Daytona Reference 6265 Unicorn
Marlon Brando's GMT-Master
James Bond 1972 Submariner
Platinum Diamond Pearlmaster
The list of Rolex models is indeed long and if you are looking to start collecting these superb watches, so if you are interested on a particular item, you may want to first find out as much as you can about before deciding on making a purchase. You can start looking at the collection of rare vintage Rolex Sydney dealers have. You can also search online for a leading antique dealer not just in Sydney, but also in other cities around the world. These antique experts would have an impressive catalogue of vintage Rolex timepieces.
Acquiring 2-3 every year would give you quite a collection in 20 years, plus you have a lot of accessory choices for your wardrobe, with classic, sports and evening wear models.
Getting A Rolex Valued
There are a number of ways to have a vintage Rolex watch valued, you could take it into a jewellery or antique shop that is Rolex-approved, or you could make some online enquiries by searching for the make and model number. Prior to buying a vintage Rolex watch, you should Google the model number and find out what the market value is; the Internet makes it easy to compare prices and purchasing from an antique dealer ensures the item is genuine and is fairly priced.
If you are looking to sell a vintage Rolex watch, talk to a leading antique dealer, as they are the people who specialise in fine watches, especially Rolex, and it is likely the dealer would offer you a fair price for the watch.
Collecting vintage Rolex watches is not just a hobby, it is a shrewd form of investment and over the years, your collection will steadily appreciate in value, while also providing you with a lot of pleasure.