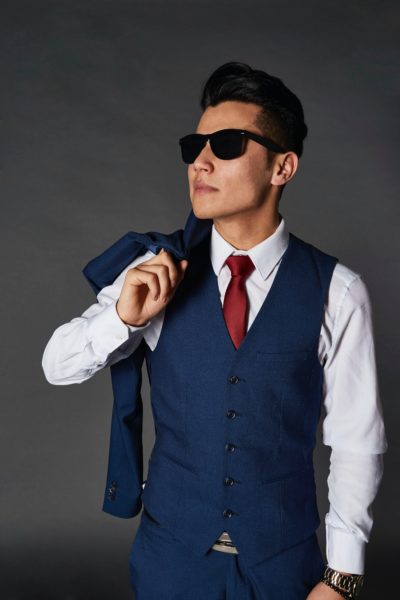 Cultivating your personal style is and should be a lifelong journey. For most people, it's one that starts in early adulthood, as they're transitioning from their teenage years into becoming full-grown men.
This phase is not without its growing pains, though. Youth invites experimentation, but this stage of life may cause you to pick up some bad habits along the way. To keep these habits from becoming glaring issues in the future, it's a good idea to nip these blunders in the bud.

Here are four style mistakes that your man might make and how to fix them now:
Blunder #1: Wearing White Socks
Since socks aren't usually that visible, most young men don't dwell on them too much. They're usually content to grab whatever happens to be on sale at their local big box stores. In fact, many men probably still don socks that other people have gotten them.
That said, the first rule of wearing socks as an adult male is to get rid of all your white ones. This is because white socks get dirty quickly and are hard to match with other clothes or colors. Additionally, the popular perception around white socks is that they should be reserved for sports and shouldn't be worn on the daily.
Though it may sound like such a simple wardrobe amendment, following this rule can immediately upgrade your entire look. So start looking into brands that offer a mid calf crew sock for men in various colors and patterns. In particular, try to buy a few pairs that suit your style and personal taste.
If you don't feel that confident in your color-matching skills yet, you can start with black, grey, or other dark colors that are considered safe picks. It's also nearly impossible to go wrong with classic patterns such as stripes, polka dots, or argyle.
Investing in colored or patterned moving socks designed specifically to keep up with your active lifestyle is also a good idea. Keep an eye out for pairs made with breathable fabrics that can keep you cool and comfortable as you go about your day.
Blunder #2: Wearing Clothes That Don't Fit
If you must keep one thing in mind while shopping for clothes, it should be this: fit is king. It doesn't matter how expensive your threads are or which designer brands you got them from if they don't complement your frame, after all.
With this in mind, it's always worth it to ensure that your clothes fit correctly, as this can make or break any outfit. In addition to looking better, you'll also be more comfortable in clothes that fit you properly.
Since bodies come in so many shapes and sizes, it's hard to give any hard and fast rules about how your clothes should fit. Making sure that they aren't too loose nor too constricting is a good start, though. To learn more, you can also watch instructional videos on how certain articles of clothing should fit your frame.
Blunder #3: Wearing Too Many Accessories
Accessories are a great way to personalize any outfit and truly make it your own. You can go for a nice watch, a fly pair of sunglasses, or a piece of jewelry that means something to you.
However, you should avoid overloading on accessories, as putting on too many of them can bog your look down. They can also be incredibly distracting, detracting from your outfit instead of complementing it.
As such, sticking to one or two accessories before leaving the house is fine. You can put on a third if it serves a specific purpose, like a hat or a pair of shades that can protect you from the sun.
Blunder #4: Not Having a Good Footwear Selection
When it comes to footwear, most young men typically default to sneakers and sports shoes. It's easy to see why, as sneakers are light, comfortable, and come in a variety of styles from casual to athletic. You can also pair sneakers with almost any outfit without making them look too out of place.
However, sneakers aren't always the most appropriate footwear for certain events and venues. No matter how expensive your kicks are, they will never be a suitable replacement for dress shoes in a formal setting.
Thus, it's always a good idea to have a few different footwear options on hand so that you can be prepared for any occasion. In addition to dress shoes like oxfords or brogues, you may also want to consider investing in a stylish pair of boots or a casual pair of loafers. Not only can they instantly elevate your look, but they'll also add variety to your wardrobe and hopefully inspire you to expand your sartorial horizons as well.
It may feel like fashion trends are constantly changing, but the most basic rules for dressing well have stayed the same throughout the years. Indeed, the lessons in this article will continue to be valid and meaningful as you progress through your 20s, 30s, and beyond. The most important thing to remember, though, is to continue developing your fashion sense so that you're always dressed appropriately, whatever your age may be.