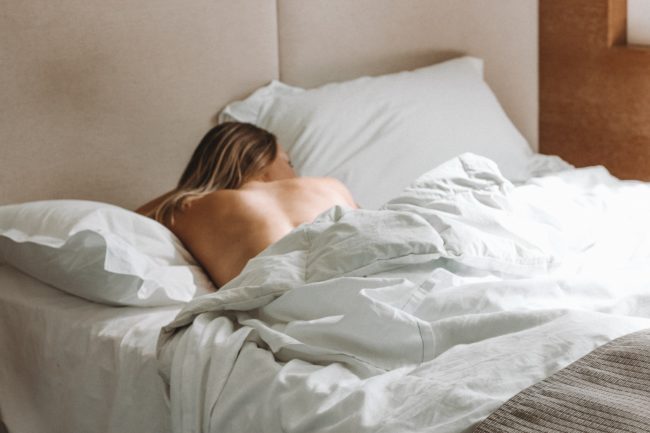 We all have that sleeping style that makes us enjoy our time on the bed. Some will love sleeping on their back or side while others on their stomachs. Nevertheless, doctors discourage people from sleeping on their stomachs. Why?
Doctors say sleeping on your stomach is not healthy for your spine and neck. Also, some people end up having indigestion issues. However, there are a few benefits of sleeping on your stomach. There is less snoring as well as fewer wrinkles on your face, says FreeYourSpine.info.
That is why it is good to allow these people to sleep on their stomachs by solving the bad side of sleeping on their stomachs. What's the solution? Getting a perfect pillow. So, how do you pick a perfect pillow for your sleeping style?
Consider the thickness, material, adjustability, price, and durability. Let me explain in details:
The Material
You need to be careful with the material used to make the pillows because some materials can cause wrinkles on your face when you sleep on them, and others cause breathing problems. So, which is the right material? A material that will allow you to breathe comfortably should be the perfect pick for you. Let me give you a hint.
A pillow whose material is thin makes you feel comfortable while you lie on it. Such materials include memory foam and down cushions. Also, a pillow with a tapered side ensures that your airways do not block thus making breathing easy.
The Thickness
Your choice should be those pillows that are thin and adjustable. A thin pillow slightly lifts your body so as it gently supports your head to prevent it from tilting. In turn, your neck and spine do not suffer several health issues.
As a stomach sleeper, you should, therefore, avoid pillows with a high loft. Rocco Monto, who is an orthopedic surgeon, says that pillows with high loft slightly pushes the neck backward thus causing neck problems or lower back discomforts. So, what's the right thickness for you? Rocco recommends a 3-inch pillow.
Nevertheless, even as you consider the loft of the pillow, bear in mind that your head size, body mass, and width of your shoulders matters as well.
Adjustability
Whatever your sleeping style, you need a pillow that will adjust well with your body while you sleep. That means, even as you sleep on your stomach, your pillow should be 'kind' enough to adjust to that style.
So, even as you consider the material, remember to find one that will adjust well to your style. One such pillow is one made of memory foam. I have mentioned it previously in this article. It will not only take the shape of your body but also help your body align well.
The Durability
Whether you love sleeping on your back, side or stomach, you cannot ignore durability. That is a fact. No one wants to buy a pillow that will last a couple of months and is no more. So, to be able to determine if the pillow in the display is durable, you got to consider the material used to make it. Some people may not tell the material just by looking at the pillow. No worries; just touch the material of the pillow.
The feel will absolutely speak out the material in use.
You will, therefore, determine if the pillow will last a couple of years or months. Pick that which favors your sleeping style while it remains durable.
The Cost
The fact that these pillows are scarce does not allow anyone to over-price them. So, as much as the material and durability may be good, ensure that the price is not too high. Again, don't go for those very cheap pillows. That is, don't compromise quality!
It would be good to buy these pillows where other types are sold so that you can vary the price to determine if it's appropriate.
The Final Line
The health issues associated with sleeping on your stomach can be harmful, but there's a solution. A perfect pillow is the way out. Nevertheless, you need to pick an ideal pillow to deal with these health issues.
Follow the guidelines in this article to land that perfect pillow for your stomach sleeping style.