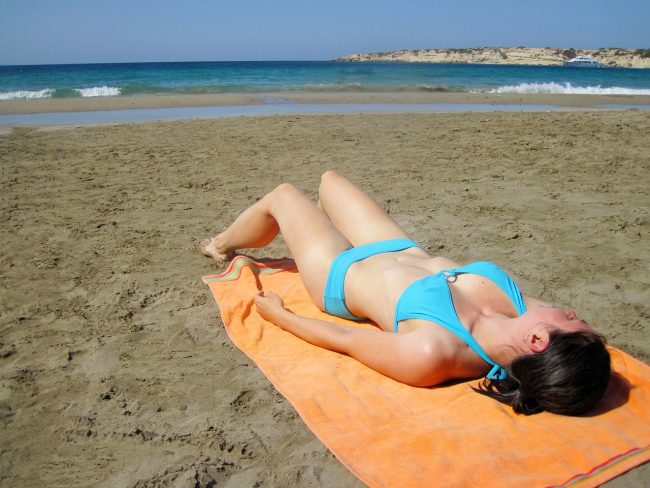 If you don't regret visiting that tanning bed already, you will in several years. It has long been confirmed that the sun is to blame for a good portion of our wrinkles, spots, and sagging. While the sun encourages life on this planet, and can't be avoided entirely, what can we do to reduce its negative impacts on our skin? Here are five tips to prevent future damage – and maybe improve what's been done already.
SPF, SPF, SPF
Using any product that says "SPF" on it isn't good enough. Aim for a minimum of SPF 35, and apply multiple times per day if you're going to be outside. You probably need to use more on your face than you currently are; a nickel-sized amount is generally the best place to start.
Use an SPF product that is suitable near the eyes. While you're not applying it to eyelids, the outer portions of the eye area are often neglected. This is where the most obvious damage can occur.
Be Sun Smart
Did you know that UV rays are just as powerful during the winter, and that UVA rays penetrate through clouds? Another particularly potent combination is a white, snow-covered ground and bright winter sun – it will bake your face in no time.
In addition, protect the eye area with sunglasses whenever possible, and wear light layers if you're in danger of burning.
Stop Chasing a Tan
Is sun damage as attractive as you think it is? That golden brown color is nothing more than damage to the upper layers of your skin, meaning that there's no such thing as a "healthy" tan.
Many people who want a tan usually just want a more even appearance to their skin, as well as a glow. Instead of baking your skin to do this, try applying a lotion that gradually deepens the color of the skin.
Use the Right Products
In addition to SPF, it's a good idea to support the skin in any way possible as it combats the signs of sun damage and general aging. Products like those by Christie Brinkley contain botanicals and other compounds that encourage healing and repair.
Other products containing retinol and Vitamin C can help you reverse some signs of damage as well. Chemical exfoliants like AHA and BHA are also a good pick for more even, smooth skin.
Use Products Right
Products containing BHAs, retinol, or vitamin C are proven effective, but unlike sunscreen, you can't just apply a ton of it whenever you want. In fact, retinol can increase your chances of sun damage if worn during the day.
Don't use strong products together, and apply them only at night. Understand that SPF is even more important if you're using vitamin C or retinol.
There's nothing wrong with enjoying a warm, sunny day – we all need vitamin D, and for many, the sun makes us happy. Still, there are plenty of reasons to be wary of the effects on our skin, from cosmetic imperfections to melanoma. Wear sunscreen, embrace your natural skin tone, and choose products that both defend and repair.