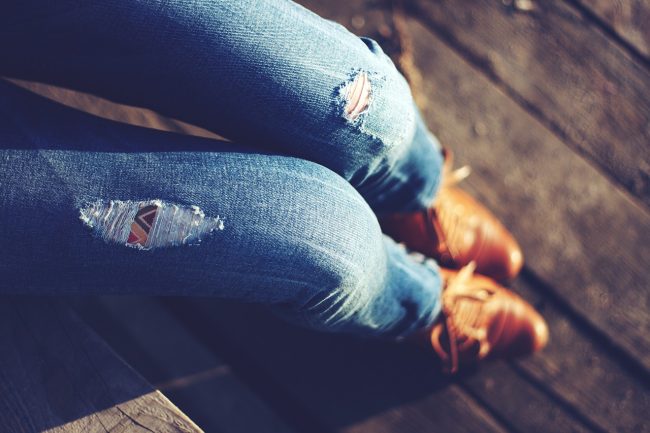 It was less than a decade ago that stars like Katie Holmes strayed from more traditional skinny jeans of the time in favor of a baggier, less form-fitting style. Boyfriend jeans were the first staple of this fashion trend and jackets, suits, shoes, and even accessories followed. It seems, however, that women have been raiding the closets of their boyfriends and husbands long before this trend was established, in search of comfortable, less form-fitting clothes. Today, it has become such a trend that you even see clothing of this style on the runways and some of the top fashion designers have a boyfriend line in their arsenal. Read on to learn more about the staples of the boyfriend trend and tips for boldly owning each part of this style.
Boyfriend Staples
Every girl who craves the relaxed, comfortable style that is the boyfriend trend should have these staples in their closet.
The Original "Boyfriend" Clothing: Denim Jeans
You should note that the "boyfriend" jean is not meant that they would be something your actual boyfriend would have in his wardrobe. Rather, they describe a style that is meant to fit more loosely. A good pair of boyfriend jeans will cling to the hips well and then cascade loosely down. There are a few different ways that you can wear the boyfriend jean. You can turn up the hem at the bottom to make your ankles look tiny or let them hang down. Pair them with a pair of flats and a feminine top, or heels if you are feeling daring. You should also note that the boyfriend jean does not necessarily have to be clean cut. Many lines have come out with distressed and even destroyed boyfriend jeans, with varying degrees of fraying and rips. These look cute with a form-fitting, feminine t-shirt.
Tailored Suits
Do you have an important event to attend but do not want to look overly feminine? Show off your flair with a tailored suit. You will find that the most important thing about a tailored suit is the cut. You will want the suit to be loose fitting, but still cut well to hang straight line. Try out a suit with color or in a feminine fabric to avoid looking too mannish. You can pair these with a pair of cute flats if you are trying to stick to the boyfriend style or a pair of heels if you want to make a statement.
The Boyfriend Shirt
The boyfriend shirt looks excellent as a button up, simply buy a size larger than you normally would. To feminize an otherwise manly shirt, roll up the sleeves and unbutton a button (or three). Pair it with a neat tank top or try variations of the boyfriend shirt, which are sold in many stores. These are shirts designed to be a little loose on the wearer, but come in feminine fabrics and prints. To keep from looking too messy, you should think about pairing these with tight bottoms.
 
Shoes and Accessories
Pairing your outfit with the wrong shoes or accessories can kill your boyfriend vibe, so check out these stylish options.
The Perfect Shoe for the Boyfriend Wardrobe
Let's face it, no matter how good they look, high heels can be painful. When you dress up using the boyfriend wardrobe, you can choose heels if you want. You also, however, have the option of rocking flats. Some good options include slippers, brogues, loafers, and other flats. They even come in feminine colors because of the large number of designers catching onto the boyfriend trend.
Choosing a Boyfriend Watch
Boyfriend watches should not be delicate and feminine; they should make a bold statement. As you go about choosing your watch, look for bold, chunky straps and a large face. Stainless steel and leather are both excellent choices. You can choose a strap that is dark in color, steel or brass and shiny, or bright so that it stands out. The obvious exception is finding a watch to match the tailored suit look – you'll want something bold, but simple. A minimalist analog watch like a Kapten&Son's wristwatch can pair well with the suit while giving you just enough options in styling the watch face and band to add a touch of flair to your fashion statement. A few other examples of watches you can wear with the boyfriend trend:
Jones Cyclops- This watch has a mesh, stainless steel band and colorful dots to represent the numbers.
SBA Rose Gold/Black- This chunky watch pairs black with a feminine rose gold color.
Tendence GLAM 3H Purple/Leather- This shiny, leather watch has a purple band and numbers that pop (literally).
LRG Volt Silver White- This watch is chunky but chic and features bright green accents.
 
Jackets
There is no better way to keep warm than with a looser-than-normal jacket. This part of the boyfriend trend is rather reminiscent of the older days, when a guy would give his girlfriend his sports jacket to wear. The good news is that you do necessarily need a boyfriend to indulge in a warm, comfortable jacket.
Bomber Jackets
The last thing you want to do when choosing a bomber jacket is choose something that will balloon around the waist and make you look bigger than you are. To keep this fashion cute, choose something that fits you well on the shoulders and then hangs down, instead of clinging. Bomber jacks pair beautifully with a pair of jeans for a sporty edge or a dress or calf-length skirt. You should also note that its generally not a good idea to button or zip the bomber jacket up if you want to stay looking fashionable.
Baseball Jackets
Baseball jackets are another way to keep warm this fall and winter season. Baseball jackets look chic, especially when paired with a pair of well-tailored knee-length shorts or a skirt or tight jeans. They also look well with a feminine, boyfriend style top. Â  You should not feel obligated to stick to slim, form-fitting styles just because you are a woman. While boyfriend styles were once worn to dress down, they are now a great way to dress up and make a bold, fashionable statement. This is especially true if you know what you are doing. Stick to the trendy tips on this list to choose the best boyfriend items to stock your wardrobe and make a statement.