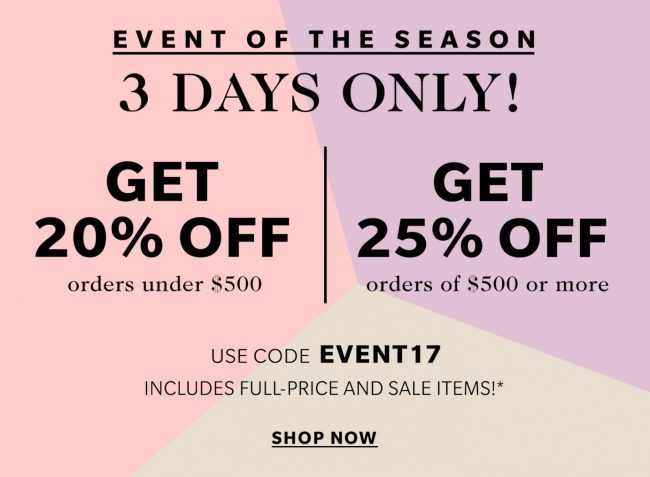 Shopbop knows it's the time of year to update your wardrobe for spring, so they are making it easy for you to do just that AND stay on budget! Their biggest sales event of the season is happening RIGHT NOW!
Get 20% off orders under $500 and 25% off orders over $500 with coupon code EVENT17!
Grab everything you need for spring (and maybe a few things for summer too) because this coupon code works on both full-price AND on sale items too! There are some brand and item exclusions though, which you can check out here.
The Shopbop sale ends 11:59PM Pacific Time (Los Angeles) Friday 4/14.
The Eastdane sale ends 11:59PM Pacific Time (Los Angeles) Sunday 4/16.
You probably don't need me to tell you what to buy, but there are a few spring trends that are super hot right now that you might want to try! Check it out…
Raw Edge Open Hem Jeans
Get really casual this spring with these cool jeans…

Cold Shoulder Tops & Dresses
Time to bare those shoulders with these cool tops and dresses…

Pretty In Pink
Get pretty in pink with these cute pieces…

Embellished Sandals
The more outlandish and dramatic, the better! Here are my favs…

Let us know what you get! We're dying to see which updates you make to your spring wardrobe!