We just got word that the Shopbop Sale Event of the Season
has been extended!!
Instead of ending tonight at 11:59pm PST, you can shop until 11:59pm PST 4/16!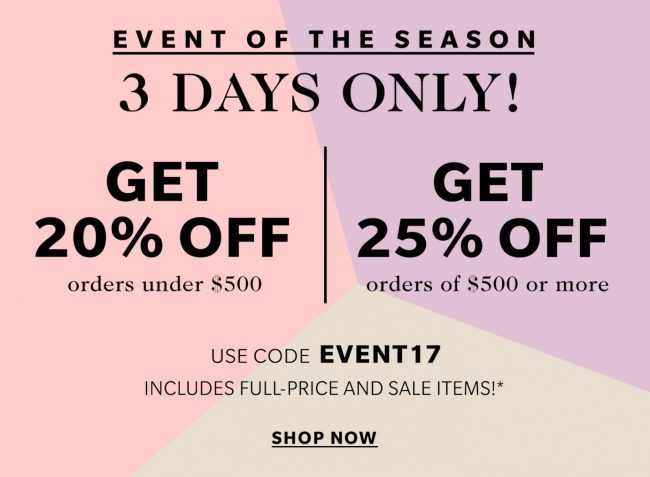 How great is that? You get two more days to shop your heart out and grab all those spring trends you've been dying to try. You get all day today, tomorrow and Easter to save up to 25% off your order on Shopbop.com!
Don't forget to add coupon code EVENT17 at checkout to get 20% off your order up to $500 or 25% off your order of $500+.
And if you read the banner, you'll notice that this amazing coupon code INCLUDES FULL-PRICE AND SALE ITEMS! That's pretty much unheard of. Seriously, whatever you've ever wanted to purchase on Shopbop, you should just go buy right now. (Don't forget to check out the brand and item exclusions here before you checkout!)
Shopbop has all the best spring trends, right at your fingertips and neatly categorized on the site so you can easily shop your favorite styles. Check out these 5 hot spring trends that I'm obsessed with right now and you need to try!
So-Cal Style

Americana

Tailor Made

New Romantics

Embellished Sandals