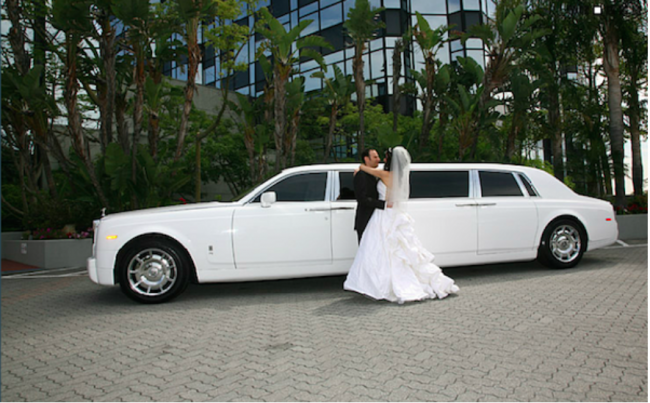 When couples get married, they have to get to the airport somehow. Most people choose a car decorated with some type of announcement about their recent union. But which automobile is the best one to travel in with your new mate for life while visiting the top 7 California destinations for couples? It's a good question, and one that deserves some careful thought. We'll take you through several options whether you want luxury, fun, comfort or just plain silliness.
Bugatti Vehron
This fast car tops out at a price tag of a whopping 7 figures, so it's extremely unlikely you'll be able to buy it. It's worth remembering that this car commands attention though, and it may be worth renting for a day at a time like this. Just maybe skip hanging tin cans on this one.
Rolls Royce Limo
Can you imagine the fun it will be to move around in a vehicle that is so big that it takes up half the length of a suburban street on its own? What a way to make your wedding that much more memorable. Katie from orlajames.com agreed "Rolls Royce will definitely be my first choice, I want it to be classy, stand out and also be in the way because its my special day!"
Mini Cooper Convertible
All right, so this one is definitely a little more realistic to afford. A Mini Cooper convertible is both peppy and attractive, which will definitely make you a hit both on the road and off. Bonus in that the passenger will definitely get a few stares if they're still in their fancy wedding dress or tux.
Honda Civic
Another affordable one with a little less zip than some of the others still has its practical advantages though. For those who want to blend in, according to many defensive driving courses, this is probably the best car to do it in. Plus, it's comfortable and safe, so the drive will be smooth as silk (and hopefully a sign of many seamless days as a couple.)
'70s VW Bus
There are all kinds of nuptials in the world, but sometimes the hippy culture needs to be celebrated too. This one is an attention-getter, and definitely a unique car to have right after you get hitched.
RV
This is your first chance to see what your spouse is like in a kitchen that moves around. You might want to know for your later years traveling together across the country (with kids and without.)
Vintage Car
Old-fashioned cars are unique on the road, just like the love you have for your spouse. This is a good way to flash back in time, and a tribute to the values of the past.
A Float
So this one is not technically a car, but with the right wedding theme and some flowers, this could be the smartest decision you make. Picture yourself waving like the queen as you sail down the roads on the way to a new life. You will certainly have quite a story to tell if you're pulled over and have to explain to a cop what you're doing.
Aeromobil 3.0
Just what it sounds like — a flying car. It may or may not be for sale this year, so there's a possibility you've have to wait. Still, what better way to celebrate than in your own flying car?
Your Own Car
You already know that you don't actually need all that luxury to make for a good time. All you really need is the person you care about the most next to you, whether you're driving, they're driving or your best friend is driving. Have the wedding party make the back bumper special for you, and enjoy the ride.