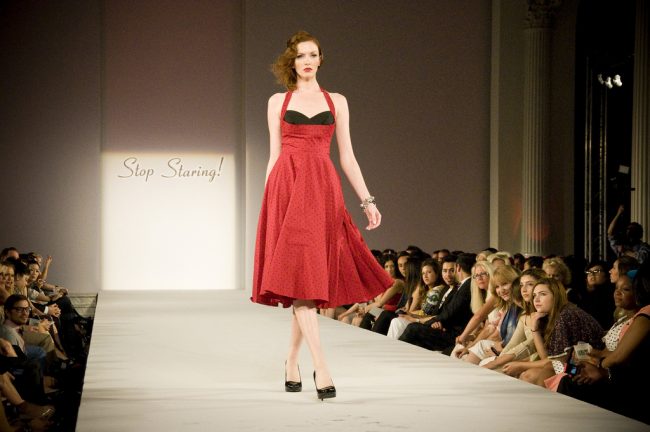 Image via Flickr by fervent-adepte-de-la-mode
None of us are quite as current on fashion trends as we want to be. But we can always stay in fashion when we rely on wardrobe staples that always look good. Through all the dress fashions that change with the seasons, certain styles will never go out of fashion. Make sure these dresses are always in your wardrobe, and you can be confident that you'll always have a pretty dress to wear for any and every occasion.
The 50s Cocktail Dress
There's a reason the tight bodice, high waist, and flared skirt so popular in the 50s still hangs on racks today: it looks good on just about everyone. This dress cut makes your legs look long and your boobs look great, and works on many body types. Accessorize with a funky belt around the waist and your favorite pair of sandals to dress it down. Wear a monochromatic style with your hair up and smoky eyes for the perfect evening look.
The A-Line Dress
The A-line silhouette is the subdued cousin of the 50s cocktail dress. The skirt is less full, but it still has enough flare to flatter most body types. A-lines never go out of fashion, and you can always find good deals on them at retailers like Kohl's. Put a blazer over your A-line to turn it into a work outfit. Buy one with a colorful print and wear it on sunny days during springtime with your favorite sandals.
The Sweater Dress
Long sleeves on a sweater dress look cozy and enchanting at the same time. The sweater dress is a wonderful fall and winter accessory, and it's one of the most versatile pieces in your wardrobe. Sweater dresses look perfect with stockings and calf-high boots, all of which you can nab for cheap with Kohl's coupons. You can also dress them up with elegant necklaces and high heels.
The Halter Dress
When you want to go out on the town or enjoy a weekend at the beach, your wardrobe isn't complete without a halter dress. Get a casual halter dress that ties behind your neck, and search Victoria's Secret deals for the undergarments that will keep you supported without showing beneath the dress. Or, splurge on a fitted halter dress that you wear with heels and hair up to a cocktail party.
The Shirt Dress
Shirt dresses look effortless and sexy. The relaxed fit, simple material, and buttons make them a wonderful addition to the casual side of your wardrobe. They're super versatile, you can find good deals on them at tons of retailers. Buy a t-shirt bra to go underneath your shirt dress; you can find good deals from Victoria's Secret. Dress a shirt dress down with a pair of flip flops, or dress it up with heels, jewelry, and an oversized handbag.
A good fit and flattering cut never go out of style, so instead of buying what's trendy, buy what fits and makes you feel gorgeous. These dress styles remain in fashion because they flatter many body types, so finding the perfect one for you will be a fun adventure.