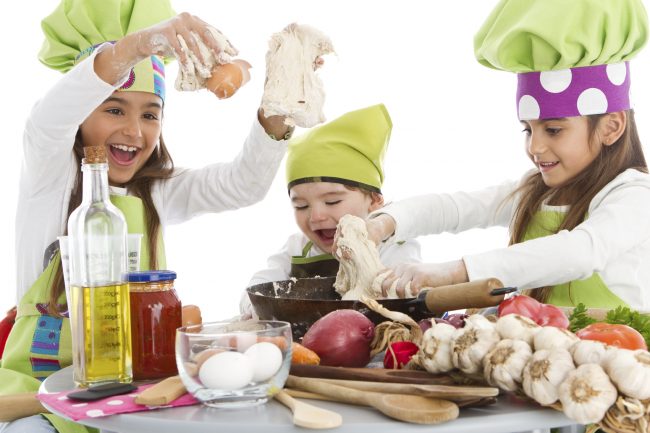 You can really get a surprise when the small hands of your kids work extremely well at your kitchen. Many kids love trying their creativity in the kitchen. These skills can be very useful in their future. Here are some tips that can help you in cooking with your children.
Be Patient
You must be patient as the preparation may take a longer duration than you had expected. Especially for the younger children, the cooking process is as much fun as the ultimate result. So, make sure that you are providing them enough time to learn.
Plan
Try planning ahead and choose an appropriate recipe. Ensure the inclusion of fun activities while preparing the dish. You can do some preparation ahead of telling them to join you.
Make Them Ready
You must get them ready by putting an apron over their clothes. If they are having long hair, make sure they are properly tied.
Expect Mess
Cooking itself is a messy activity and when the children are involved in it, they are expected to be messier in nature. You can lay a plastic table cloth on the floor or just under the workstation to control the mess a bit. You can also let the mess activities happen freely and enjoy the cleaning at the end.
Talk Through The Process
You must keep talking and repeating the steps while you are cooking with younger kids. Sometimes, you may show pictures for making them understand the actual purpose.
Touch And Taste
Make sure that your children are aware of the ingredients that can be consumed raw.  Your cooking experience with kids will really be enjoyable, if there is some tasting included. When you are making burgers, your kids can only have the filling after it has been cooked properly. Let them know that the burger will only taste complete after the entire process is over. Always ask them to use clean spoons for tasting. They must know that stirring the spoons or dipping the fingers is not allowed until the end of the process.
Food Hygiene
Make your children aware of the importance of food hygiene properly. They must wash their hands before and in-between, if they are touching any raw or ready to eat food.
Opportunities To Learn
While cooking, provide the learning opportunities to your kids. You can talk about the origins of the ingredients, techniques and the cooking processes. During the process, you can teach them geography, science and even mathematics in a very practical manner. Cooking can also be helpful in improving their co-ordination and the motor skills.
Ability And Age
You can go through the age guidelines of different recipes. You can observe your own child and identify his or her capability. If your little one is very young, make sure they are only involved in the washing activities like, washing the vegetables in the sink and using the plastic containers only for their safety. If your children are little grown up, they can be allowed to cook and chop vegetables.
Have Fun
Your children will only love cooking, if you are free to have fun with them in the kitchen. If you are tensed, start with the basic recipes and let them learn. You can step into the middle when it is required or else, let them create and enjoy on their own.
The cooking skills can be very necessary for becoming independent, to develop the basic motor and co-ordination skills. Moreover, this is the skill, which can be learned with fun and creativity. You never know, the end result may be so good that it can taste even better than you had prepared earlier!
Author Bio: David Wicks is a chef who works at https://www.mcdelivery.co.in/. In this article, he is sharing some fun ways to share the cooking process with your kids.