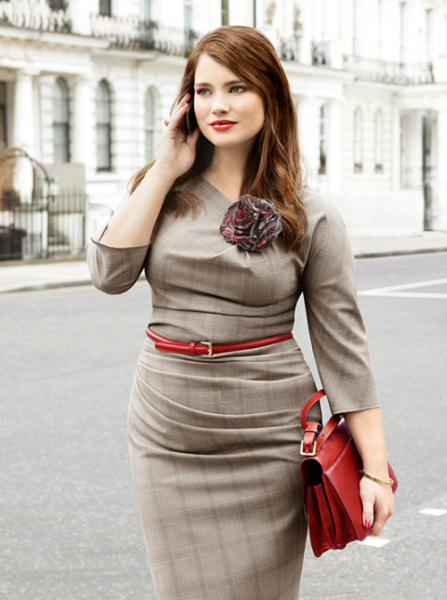 Most people get it wrong when it comes to dressing their plus size bodies. Fortunately, the fashion industry is continually opening up to this segment that takes up a large percentage of the market. More and more designers are coming up with designs that fit and suit the plus size market, thus meeting their fashion needs as well.
When buying for your plus size body, it pays to follow fashion rules as this will help make the process easy. You should not be afraid to try something new as it is the only way you can get what you need. You will be surprised to find designs that you never thought were possible and that fit your body well.
Here are some of the tips that you can follow in order to make the most of your shopping experience:
Follow the latest fashion trends
As mentioned earlier, industry players are now increasingly more responsive to the plus size shopper. Look at magazines and other informational resources that will help you find out what is new in the fashion industry. This will help you look trendy and fashionable at all times. You will also know what is available and where you can get your clothes. This helps you to narrow your search for the perfect outfits.
Keep to the fashion rules for dressing curvy bodies
When shopping, remember the dos and don'ts of dressing the plus size body. Avoid clothes that make you look even larger than you are. Instead, go for clothes that have a slimming effect on your body. Go for small sized patterns as they make you appear smaller. Also, use light colors to draw attention to the areas you want to accentuate. Dark colors are useful for hiding areas you want to keep low profile. You will find online resources with all the different ways to dress our shape and size.
Go for custom pieces
Custom pieces are good because you get clothes that fit you exactly. You do not have to take in a large dress or squeeze in a small dress that is not your size. You can replicate the designs you like and that are not available in your size or shape. Sometimes custom pieces are not available to you and may cost you more to get them, which would be to your disadvantage.
Find stores that exclusively dress the plus size consumers
This is perhaps the best solution for anyone looking for plus size women's trendy clothing. This is simply because you will get everything you need under one roof. The designers of these clothes already have considered all the fashion rules when it comes to plus sized bodies. They will therefore offer great designs that suit your body size. You will get a large selection of clothes as well as all the possible accessories you need to make them look good. The advantage of shopping at stores exclusively offering this line of clothes is that the focus is on you and your needs. Therefore, you do not have to do much; you just have to select what you need.
 
GUEST BLOGGER:
David Wicks is a professional fashion designer. He offers fashion advice to all sized women. He highlights major factors to consider when finding the best plus size women's trendy clothing.