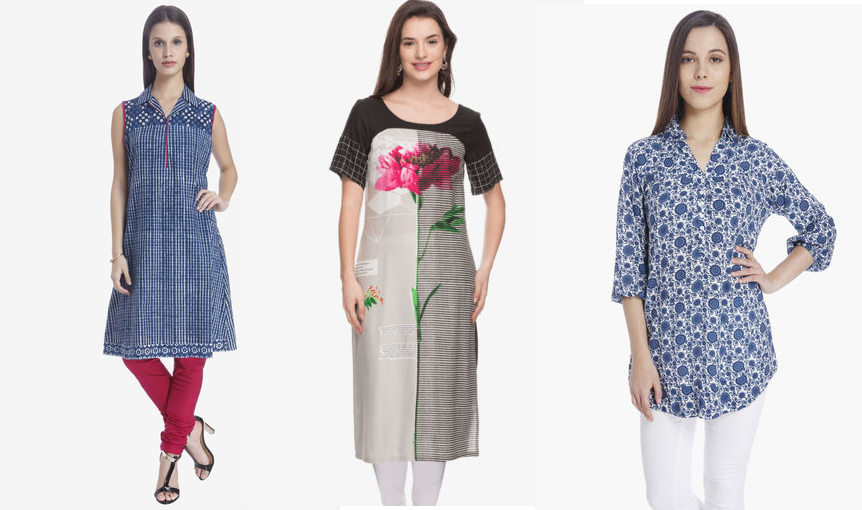 Kurtas or kurtis, as well call them, are the most favored style of clothing. From Bollywood to Hollywood and street style to runway fashion, everyone is familiar with kurtis. Somehow 'kurtis' symbolize India.
Whenever the talk about ethnic fashion becomes heated, kurtis always win. The kurtis have evolved with time and they are not limited to being indoor clothing. The pretty patterns, designs, international trends and retro fashion trends, all have made kurtis a versatile garment that can be worn with western and Indian outfit alike.
The modern ladies kurti is fusion clothing that sets high standards for your style. No wonder, you can rock the desi diva style with a modish twist.
If you are wondering how to look stylish and urbane in kurtis, take cues from our best style inspirations…
Graphics are the new 'it' thing
Graphics are the outcome of recent runway fashion shows. The graphic prints look very chic and oh so modern! Take inspiration from the airport style dressing by celebs. Almost each one of them has flaunted the graphics on their tees, tops, dresses or jumpsuits.
Missing that in your desi kurtis? Not anymore! If you are looking for graphic printed kurtis online , dig into ethnic-modern brands like W, Global Desi. They have forayed into such gorgeous kurtis with flattering prints. Flaunt their sassy prints and stay ahead of the fashion game anywhere you go.
How to style it up?
Pair them with palazzos or your regular skirts to channel out the desi modern factor nicely. Pick antique boho jewelry pieces and style them with peep toe heels or kohlapuri flats.
Kurtis that double-up as a dress
Missing out on dresses? Why not pick a kurti that doubles up as a dress? Sounds like a plan, right! Well, pick perfect A-line or asymmetrical kurtis that not only give you an ethnic avatar but with a subtle twist.
They look very classy and very traditional at the same time. Look for kurtis that look like A-line dress and make sure they are up to your knee-length, not less and not more.
How to style it up?
Pair kurtis with retro sunglasses and tie-up sandals to balance the modern-desi look. Take a sling bag along to keep up the cool quotient.
Shirt style kurti
No need to sulk when you miss out on something comfortable to wear for office. The perfect replacement to your shirt and trousers is here with Perfect Shirt style women's kurti. There is no fuss involved. Simply wear a kurti that has a collar and resembles a long shirt. You can wear it regularly for office as it will look professional as well as classy.
How to style it up?
For a unique look, combine it with dhoti pants. Shirt style kurtis are less on feminine factor so they automatically lend you a power look. With dhoti, they will look very traditional yet modern. Pair some nice flats with it or complete the look with jootis.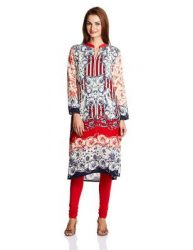 Kurti with leggings
Looking for easy peasy clothing for your regular college or mall hopping? There we have it with kurti and leggings. Explore your best options from girl's kurtis and simply pick the ones that fit you the best. Next, pair them with varied colored leggings and there you have a casual and cool style with no fuss.
It is best for casual day outs and evening look.
How to style it up?
Pick short kurtis or those with knee-length to pair with colored leggings. Throw a vest or a short sleeveless jacket to give an edgy look.