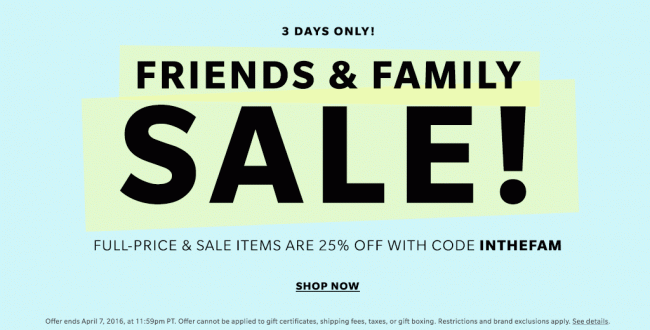 It's finally time for Shopbop's Friends & Family Sale where full AND sale priced items are 25% off with coupon code INTHEFAM. Be sure to take advantage of this deal before it ends April 7th!
CLICK HERE TO SHOP!
You can easily get everything you need for spring break or summer vacation at Shopbop during this sale. They have stylish swimsuits, chic summer sandals, and sunglasses from all your favorite designers.
With warmer weather quickly approaching, it's time to get everything you need for heading to the beach or sitting by the pool. Swimsuits and sandals are obvious, but don't forget the sunhat, coverup and a good book!
Here are a few essentials you need before you hit the beach…
Best Selling Sandals & Slipons

Best Selling Swimsuits

Best Selling Accessories

What will you choose?! I've got my eyes on those cool espadrille slipons. Be sure to grab as many items as you can during this sale because you never know when Shopbop will have their big Friends & Family sale! I mean, 25% off is a huge discount from Shopbop, so don't hold back! You deserve a treat!
Click here to shop the sale now!
* The Fashionable Housewife occasionally receives vendor/ brand sponsorships for mentioning their products and services.