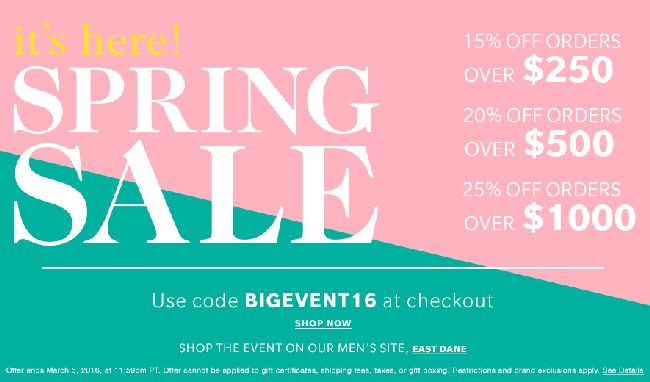 Yes ladies, you read that right! It's time for Shopbop's huge tiered sales event! If you've had your eye on a few items or wants to score some of this spring's trendiest must-haves, this is the time to do it!
Don't forget that with this sale, the more you spend, the more you will save! With that in mind, it only makes sense to find a friend or two who also want to take advantage of big savings and make a group order so that you can get the maximum amount of savings possible.
The Shopbop Spring Sale begins at exactly 12:01 am ET on Monday Evening / early Tuesday Morning on March 1st, 2016. (So after midnight on Monday evening, as it turns into to Tuesday morning). You want to shop this sale as soon as it starts so that you will get to score your items before they sell out!
So what are you waiting for? Start shopping the sale RIGHT NOW because it ENDS March 5th at 11:59pm Pacific Time.
CLICK HERE FOR ALL SALE DETAILS!
* Like all of Shopbop's amazing sales, there will be some exclusions.
Top 5 Spring Trends To Score!
Pantone's Colors of The Year
As you probably already know, Pantone selected not one, but TWO colors of the year for 2016! We couldn't be more delighted with these smokey, pastel tones of "Rose Quartz" and "Serenity". Keep your eyes peeled for anything in pale, rose-colored pinks and soft baby blues to be on-trend this season.
Here are a few items to lust after…

High Rise Skinny Jeans
Don't count out these jeans as mom jeans because these are anything but! Don't fight it baby, it's definitely time for you to get on board with this super chic trend. The thing I like about high rise skinny jeans is that they really enhance an hourglass or pear shaped figure, making you look even curvier and sexier than usual! They aren't the only ones that can rock this style though. Athletic and slim body types will also find that high rise jeans can make them look more shapely. While high rise skinny jeans are a great choice for most body types, apple or round shaped gals should probably sit this one out.
Just a few high rise jeans I'm loving…

Stripes Galore!
Stripes are always a wardrobe staple but this spring, stripes are going atomic! We're seeing wide bands of solid, eye-popping colors mixed with classic skinny stripes to create fun patterns and mixed colors that are youthful and fun. This is definitely one trend you want to get on board with for the upcoming warmer weather.
I'm loving these striped dresses and a few other pieces…

Spring Jackets
While warm weather is still a few weeks away, don't let that stop you from rocking this spring's coolest trends. Be sure to grab a light spring jacket to wear on top of your summery dresses and short sleeve shirts so you won't freeze!
I'm loving army green jackets and a few others…

Cutout Shoulders
If you want to start wearing cutout shoulders now, be sure to grab one of the light spring jackets above! These cold shoulder and open, off-the-shoulder necklines are huge right now. Be it part of the 90's fashion comeback or all that spring runway fashion, I'm just loving this look.
A few of my favorite cold shoulder looks…

CLICK HERE TO SHOP THE SHOPBOP SALE!