I remember watching the circus as a child and seeing the gymnasts carelessly fly through the air. They did such marvelous things with their bodies. I, on the other hand, have never even been able to do a single cartwheel.
I have recently become obsessed with instagram posts on yoga swings and the aerial yoga. The women just look so free doing those activities! I wanted to be able to try out those pieces of equipment. Thankfully, I got the opportunity to try out the Gorilla Gym Aerial Yoga Package system.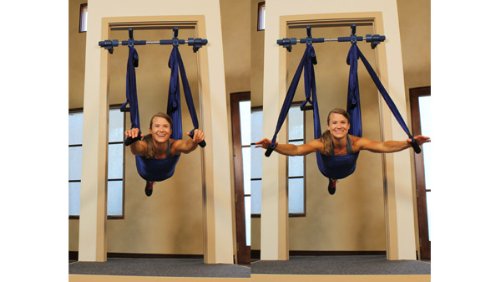 My first instinct was to watch YouTube videos to learn the yoga swing techniques. It was a fun place to begin. I learned how to do back inversions, which helps me a lot when I was tired from work. I work in a cafe, so my back often hurts from standing all day. It is really hard for me to do most versions of exercise, but I know I need to work through it. The yoga swing, while not a form of cardio exercise, gave me a chance to both stretch and workout my muscles.
The Gorilla Gym Aerial Yoga Package would be really great for someone with a physically demanding job. If you work in an office, I believe it would give you a chance to stretch your body in ways that you normally wouldn't.
If you have a New Years resolution to be more fit this year, or want to improve your lifestyle, I would recommend getting this for yourself. If you have children who have extra energy to burn, I would also suggest getting the children's attachment. It comes with child-sized add-ons which make for hours of fun. It is much easier than going to the gym, with none of the gym membership fees. All you need is a door frame.
You can read more about the Gorilla Gym Aerial Yoga Swing Package and purchase it on their website.
I received the item mentioned above in exchange for an honest review.  All opinions are my own and I did not receive compensation for this post.