I have recently moved to New Hampshire. All of my belongings have just come out of all their bins and boxes. I couldn't find my hairbrush so The Fashionable Housewife offered me a "Mixed Chicks" hairbrush to use and review.
I'm the farthest thing from "mixed" but the brush was amazing.
My hair goes down to about my butt. The ends get tangled very quickly. The brush was gentle to my hair. I'm usually wincing when I or other's brush my hair. This brush was a "no more tears" solution for me. I will continue to use this brush for my hair. I am not planning on cutting my hair anytime soon.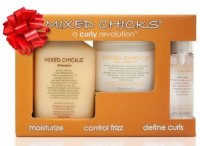 The FashionableHousewife used the hair care products. The moisturizer, the control frizz, and the define curls, gave the FashionableHousewife a beautiful, curly look the whole day. Â As a woman with thick hair, she found that the products made her hair silky and more manageable. You can see the finished product on her hair, below. As a side note, my husband actually is "mixed" being half African-American and Half-Puerto Rican, and the brush went straight through his mini-fro.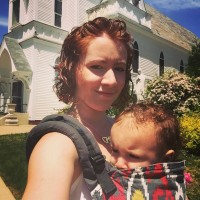 Please go mixedchicks.net for more information about their products, or follow these target links to the individual products.
Mixed Chicks Leave In Conditioner
* The product for this review was provided to us free of charge for the purpose of product testing. This does not effect our opinion of the products in any way. We only write about products we personally like and use, regardless of how they were acquired.