Real girls can make any size sexy, especially when you find the perfect outfit for your style. Curvy women in particular can have a frustrating time finding fashionable clothing, especially when it comes to the beach. Whether you are planning for a winter vacation or want a jump-start on the summer, it's hard to seek out fashionable swimwear that is flattering to their figures in a traditional department store. For whatever reason, most designers haven't clued into the fact that women of all sizes want a bathing suit that makes them feel sexy and desirable on the beach, while providing a sense of comfort and support.
If you're having trouble finding the perfect plus-size bathing suit, there are options that you may not know about. It's all about accentuating the areas you love about your body, such as your bustline, long legs or teeny waist, while disguising problem areas such as your belly, highs or thighs and derriere. Some women may want more coverage and others may want to flaunt what they've got. Either way, there should be a suit that fits all of your needs in a flattering, trendy style you love. No one should feel ashamed about going to the beach.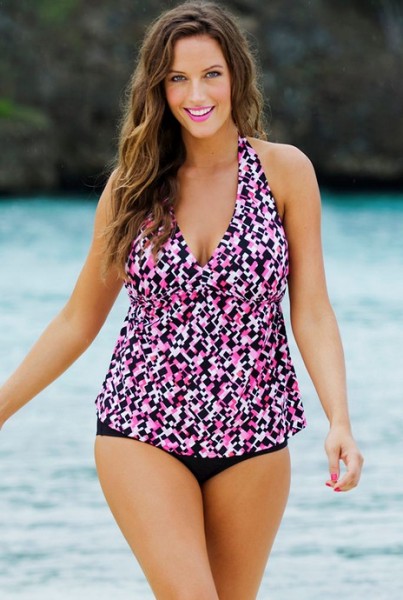 Unfortunately, regular department stores and specialty racks are outfitted with swimsuits that meet the status quo. The reality of the situation is that physical stores will bolster their inventories with the sizes that are featured in prominent advertisements. However by going online, you can discover a whole new world of stylish bathing suits for sizes 14 and above that are catered for your demographic. While the market may still be smaller, these specialized designers know what their customers want and are able to give it to them through online retailers. Companies such as swimsuitsforall.com specialize in offering an amazing selection of style, color and pattern options in all sizes from the most popular designers. Their easy sizing options make it simple to find the perfect bathing suit for your style and body shape.
Even though you may be shopping out of season, it doesn't need to be summertime in order for you to purchase a brand new bathing suit. Many curvy women need swimwear for a wintertime vacation, or even if they're planning on taking up swimming or love sitting in their hot tub. Once you've identified the type of suit you're looking for, it's only a matter of looking. Traditional stores tend to make larger women feel as though they can never find the right suit. Online shopping is a treasure trove for all body types, and is filled with consumer incentives like off-season low prices and sale items. There are all kinds of trendy styles for plus-sizes – consider the high-waisted bikini, cut-out one piece or tankini. Leopard prints, neons and graphic styles like an Aztec or watercolor design are all of-the-moment and are easily available at the right online retailer.
By going online, you'll find many sizing options at your cursor. Department stores carry a limited range of sizes because of inventory and rack space considerations. If you wear a size that's difficult to come by in a regular shop, check out specialized plus-size swimsuit shops. Whether you're searching for a bikini or a supportive one-piece, you'll have options available in your size and won't be married to whatever fits. Curvy women should never feel left out of today's trends simply because of the limitations of physical department stores. Take back the beach with a swimsuit that looks and feels like a million dollars.