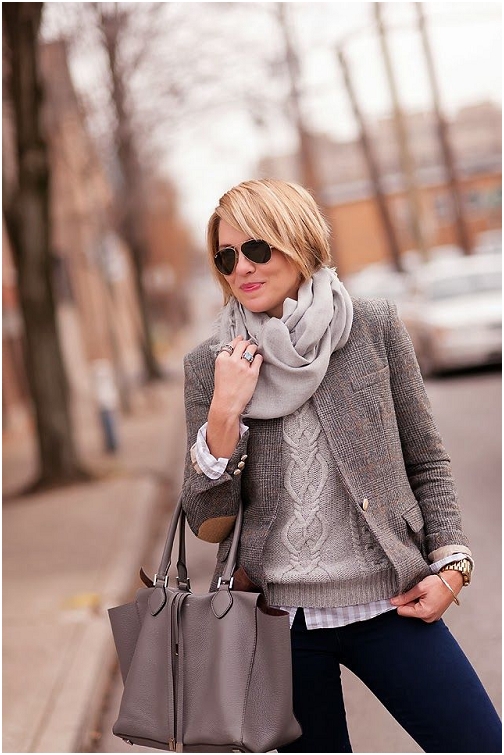 Image via: Pinterest.com
It's only been a couple of months into fall and you still have the whole of winter to face. If you have already begun to feel that you are donning the same outfits day after day, you need to do something about it.
It doesn't take much to create new and varied looks. You just need to do a few things right. Here are some tips that will help you.
Organize Your Wardrobe
You probably just pull on the first sweater you see or your favorite jacket before rushing out of the house. By organizing your wardrobe, you'll be able to plan your outfits better. So get all your clothes out of your wardrobe or closet and lay them out. You might be surprised to see things you didn't even know were there.
You need to identify your summer clothes and separate them out. It would be a good idea to store your summer wear separately so that when you plan your outfits, you don't end up getting confused. There will be plenty of stuff that you can wear in winter (as detailed below) so be sure to pack away only those items that you know you won't be wearing in these cold months.
There will also be plenty of items that you know you won't be wearing at all. Get rid of all such items; it'll give you extra space for your essentials and any new stuff that you might want to purchase.
Once you've zeroed in on your winter essentials, get started on arranging them inside your wardrobe properly. You should be able to see all your clothes so that you can easily incorporate them into different outfits. Moreover, out of sight is out of mind. You could easily forget all about a shrug or cashmere that could be used in numerous ways to spice up your outfits by pushing it into a corner of your wardrobe unknowingly.
Remember that some fabrics do well when hung on hangers, while others such as your sweaters and cashmeres may change shape and are better off kept folded. You'll be able to buy special hangers for coats and delicate fabrics like silk, chiffon, etc. from retail stores or online shops such as OnlyHangers.com.
Get the Essentials
You need to have some essentials to be able to pull off varied looks each day. Here are a few that you must possess:
A handful of tank tops in various colors from your summer collection
A couple of skirts and pairs of shorts, again from your summer collection
Knitted sweaters in different colors to be worn over or under your clothes
A couple of fitted blazers in neutral colors
Tailored wool coats or jackets in neutral shades of brown, black, or grey, or navy
Scarves in trendy colors to keep you warm and look fashionable
A pair each of knitted gloves and long leather gloves
A beanie or two in fitted as well as slouchy style
A few pairs of thick tights- knitted or opaque in different colors and patterns
A pair of high boots, preferably brown
If you don't have these essentials, you can shop for the basics without breaking the bank. Make a list of the things you need and shop accordingly. Don't buy things that are on trend; invest in classic pieces. Trends can fall out of fashion any time and you don't want to be left with a piece of clothing that you'll never wear again.
Dress the Right Way
Yes, the temperatures are dropping, but you can beat the cold and look chic at the same time by dressing in the right way. You just need to learn the basics of layering clothes!
Start by wearing a thin camisole or tank top. You can wear a fitted t-shirt under a tank top too. This will outline your body contours and won't make you look stocky. Tank tops can be worn over collared shirts, a light sweater can be worn over a summer dress, a pair of shorts or a short skirt can be worn over a pair of tights, and so on.
Experiment with tops of varying necklines, hems, and sleeve lengths. Wear a V-necked t-shirt over a scooped top, or a high-necked t-shirt under a tank top. Use your imagination and let loose your creativity!
Apart from layering clothes to achieve different looks, make use of scarves, capes, and shawls to stand out from the crowd. A cape looks ethereal and you are sure to make heads turn. Tie scarves in different styles and make use of shawls with unique prints to create distinctive looks.
Remember that wearing thick materials isn't the only way to keep warm. You can stay just as warm by wearing several layers of thin clothes plus a sweater or coat. You might want to wear a belt at the narrowest part of your waist to slim down the look.
Conclusion
With these tips in mind, you will be able to pull of amazing and creative outfits every time you have to step out of the house. Just be sure to put together everything before you hit the bed, or give yourself ample amount of time to put together an outfit. If you get dressed in a hurry every day, you might just end up wearing the same clothes despite having the best tips at your fingertips.
With a little time, patience, and practice, you'll get the hang of making the most of your winter wardrobe and you'll never again sulk at the thought of facing this beautiful season.