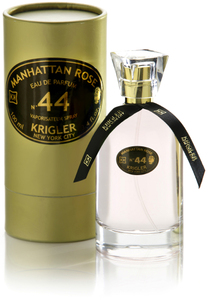 I recently received a sample of Krigler New York City Manhattan Rose 44 perfume and while I normally hate anything that even remotely smells like roses, I really love this scent. It's light and fresh, not heavy and smelly like I generally associate with rose-scented perfumes.
This particular fragrance is one of many delightful scents available from Krigler, a NYC perfumer since 1904.
Manhattan Rose 44 retails for $185 for 1.7oz / 50ML.
Visit www.krigler.com for more info on this and other heavenly scents.