While living in Texas, the charm of the Spring has lost the same appeal it held when I lived in the north. When winter is at last over we'd come peeping out our doors, squinting in the sunlight, blinded by our pale reflections and inhaling the scents of new life. Even though the novelty of having the sun year round in the south has started to wear off, spring still represents new beginnings. We open the windows, breath in the fresh air and dust away the winter cobwebs. This spring I've been using derma e Microdermabrasion Scrub
with Dead Sea Salt to exfoliate away the rough dead skin for a fresh spring look. The directions say to scrub in an upward motion for 3 minutes. So in order to provide the best review, I set a timer each time and used it. The instructions recommend times/week, however, if you have sensitive skin and are using this on your face I would stick to once a week. Since my skin tends to be on the oily side, I opted for 2. One thing I learned while using this product: I am not exfoliating long enough. 3 minutes is a long time people. I usually scrub my face for maybe 45 seconds. So set your timers readers!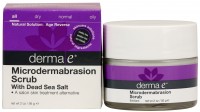 Since I have been using this product, I have been wearing makeup less. I am a loose powder, mineral makeup girl and usually wear it 5-6 days a week. Since I started using derma e®'s scrub I have only worn makeup a handful of times. I still have a few small rough patches lingering, but the scrub has really evened out my complexion and made my pores appear smaller. I have been blessed *ahem* with large pores and am always looking for new tricks to make them appear smaller. I have tried to be careful about not over exfoliating, but I wish I could use this more than twice a week. After I use the scrub, my skin appears fresh and even for about a day or two, and then it starts to appear a little flat again. I might try using it 3 times a week, but on the second use, scrub for half the time.
Did I mention it is multi-purpose? This fact somehow escaped me until today. I know that my feet are not quite sandal ready and need a little derma e® TLC. The scent of the Microdermabrasion Scrub is light and slightly fruity. It is a small grain scrub but the granules are coarser than what you would find in a daily exfoliator.
Here's what derma e® has to say about their products:
derma e's products contain non-GMO ingredients, ingredients sourced from environmentally friendly farms that practice sustainable agriculture, organic ingredients whenever possible, and 100 percent recyclable packaging. Award winning products include: a full line of natural, therapeutic skin and hair care formulations.
derma e is the 4-time award-winner of Best Skin Care Products from Whole Foods Magazine and is constantly striving to lessen their impact on the environment and improve conservation efforts within the organization. The company has been manufacturing with wind energy, while reducing the company's environmental footprint, by matching 100% of conventional electricity use with clean, renewable energy. This renewable energy purchase supports derma e® in their continuing effort to completely offset carbon dioxide (CO2) emissions. derma e also has an in-office conservation program, recycling program and supports eco-friendly business practices as a member of the Green America Business Network.
You can find out which store near you carries derma e® products or you can purchase their products online at www.dermae.com. Happy scrubbing!
Cheers!
Kayla