If you're anything like me, a summer vacation means more time to look beautiful – but who wants to lug around their entire makeup bag on a trip? Whether you're heading to some far flung locale or staying local, these must-have summer beauty travel essentials will keep you looking gorgeous for your entire vacay.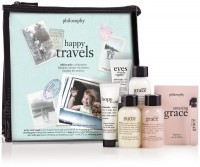 1. Philosophy Happy Travels Set
Love Philosophy? Then you will love this six-piece set that includes travel-friendly sizes of the brand's best skincare, bath and fragrance essentials to help make your trip as pleasant as possible. This set includes:
0.05 oz Amazing Grace fragrance
1 oz Purity Made Simple 3-In-1 Cleanser for face and eyes
1 oz Amazing Grace Shampoo, Bath & Shower Gel
1 oz Amazing Grace Firming Body Emulsion
0.25 oz Eyes Wide Open Instant Refreshing and Depuffing Eye Gel
0.4 oz Hope In A Jar Original Formula Moisturizer for all skin types
With this kit, you'll have everything you need for gorgeous skin – and a yummy fragrance, to boot!
($32, BeautyBar)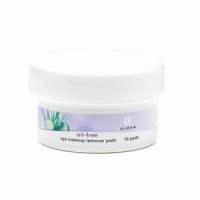 2. Almay Travel Size Oil Free Eye Makeup Remover Towelettes
These budget-friendly wipes are perfectly sized for travel, and will ensure you make it past airport security without a hitch! Conveniently packaged and easy to use, these ophthalmologist tested towelettes will get every stitch of makeup off without irritating or burning sensitive eyes. Every gal needs an easy way to remove makeup at the end of a long day, especially when traveling – and these fit the bill nicely.
($1.59, Drugstore.com
)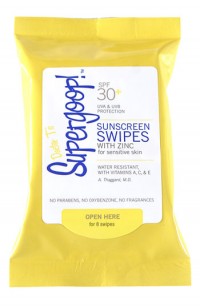 3. SuperGoop! Sunscreen Swipes SPF 30
You need sun protection every day, but it can be easy to overlook this step while on vacation. Luckily, SuperGoop's convenient travel-sized wipes contain SPF 30+ protection in an easy-to-use wipe for face and body. Plus, they're perfectly suited for sensitive skin! Avoid the hassle of dealing with messy lotions or sprays and turn to these travel-friendly wipes for your SPF protection while on vacation this summer.
($10, Nordstrom
)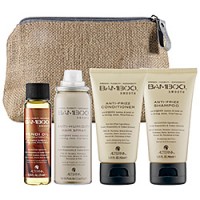 4. Alterna Bamboo Smooth On-The-Go Travel Set
I tend to avoid the complimentary hotel hair products like the plague because they just don't work for my hair. If you're the same way, don't forget to pack a travel-size hair care kit like this one from Alterna. With this kit, you'll be able to have sleek, smooth and frizz-free locks all vacation long thanks to the combination of pure organic bamboo extract and organic Kendi oil. Set contains:
1.35 oz Anti-Frizz Shampoo
1.35 oz Anti-Frizz Conditioner
 0.85 oz Kendi Pure Treatment Oil
1.5 oz Anti-Humidity Hair Spray
($26, Sephora
)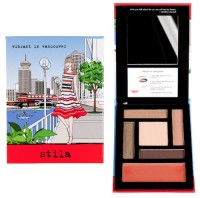 5. Stila Vibrant In Vancouver Travel Palette
This collectible palette from Stila includes 5 wearable eye shadows as well as convertible color for cheeks and lips, a handy mirror and a convenient how-to guide to help you create a gorgeous vacation look. There are several other palettes available in this line as well, so stock up and bring them with you for a convenient way to get gorgeous on vacation.
($16, Ulta
)
What are you favorite summer beauty travel essentials? Are there any must-have's you never leave home without?