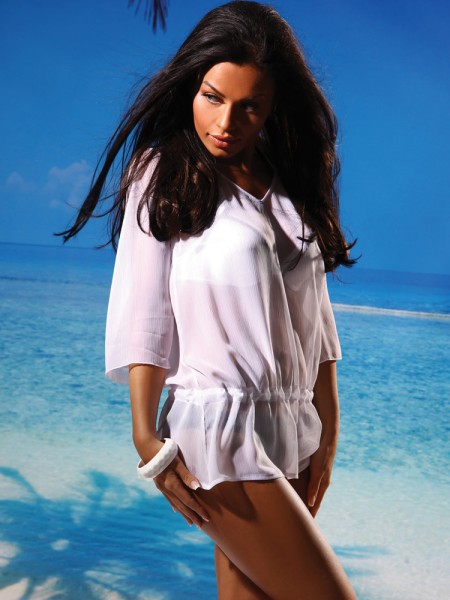 Summer is just around the corner and Elite Fashion has all your swimwear needs. From sexy bikinis to tame one pieces they have it all.
Of course, you'll need a great cover up if you don't want to end up looking like a burned oompa loompa after your adventures in the sun. And they have those too!
This white cover up from Elite Fashion is very cute. It has a v-neck and gathers just around the waist. It falls a bit below the waist. It's light and sexy.
I had the chance to test one out, but I was pretty disappointed in it. I knew it was going to be sheer, but I was not impressed with the fabric at all. It was too scratchy and weird….. And it didn't fit me right either. I would not pay $60 for it. Maybe if it was a different fabric, but not for this one.
I wouldn't write off Elite Fashion entirely however. They ship really fast and have lots of great products. This one just didn't work for me however. But be sure to check out the rest of their products.
I was sent a cover up from Elite Fashion, but my review is 100% honest and mine!