I'm a busy gal. (Ok, I might be a little lazy too. Especially when White Collar is on)  😉 I just can't see justify how I can benefit from exercising when I can watch Matt Bomer on tv….. Anyhow, on to exercising. 🙂
I used to run. But several ankle injuries have put a damper on that form of working out. So I started checking out other fun alternatives. (I refuse to exercise if it's not going to be fun, I'll sit and watch Matt Bomer thank you very much!)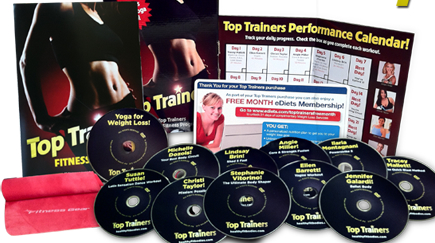 And I'm pleased to introduce to you ladies the Top Ten Trainer's dvd program. I'm officially in love with this program. You are getting  your own personal trainer just like the celebs. Always loved Britney Spears abs? JLO's legs? And wished that you could have them? Well, know you can!!!
This program is beyond awesome. The trainers make working out fun. And the best part? It doesn't take you forever. You can work out in your own timing. Whether that is 15 minutes or 2 hours.
You will be challenged with programs like-
Cardio Buns Latin Dance
Thighs Yoga Plyometrics
Core Ballet Interval Training
Abs Pilates Kickboxing
Total toning yoga
Each of the ten DVDs features a separate trainer with a specific workout routine. If you want to try kickboxing then their is a DVD for that, or if you are in a mood for yoga then check out that DVD.
My favorite part? Everything is included. There are no extras that need to be purchased. Top Trainers come with 5 free gifts including:
Fitness Guide
Wall Calendar
1 free month subscription to ediets.com
Resistance band
Yoga for weight loss DVD
Seriously. You ladies need to check this program out. I'm in love with it. I've been using it for several months and it's my favorite exercise program and it's such a great way to stay (or get) fit!!
For more information please visit- healthyfitbodies.com And know I'm going back to watching White Collar… don't mind me. I did my exercise for the day. 🙂