Every girl wants to look her best on Valentine's Day and beyond. (Whether or not she has a date. Don't mind me, I'm bitter!) And thanks to these amazing products your skin will never have looked better!
Who doesn't want sexy legs? Instantly hide cellulite, spider veins and imperfections …

Miracle Skin Transformer Body SPF 20
Available in 3 shades for all skin tones, this tinted body lotion has natural silicone and other ingredients to leave a soft glow to skin all year round.  Skin looks flawless in a flash! $34 www.miracleskintransformer.com
Want glowing skin? Treat yourself to a natural fruit acid peel at home with the NEW emerginC at-home Facial Peel & Clarifying Pads.


Part of emerginC's all-natural Scientific Organics line, this new easy-to-use, 2-step facial peel and clarifying kit offers an active dose ofnatural fruit acids, tea tree, lactic acid, cypress, willow bark, and apple extracts designed to rapidly remove dead skin cells, renew complexion, brighten, nourish, and clarify the skin, as well as minimize the appearance of fine lines and wrinkles.  $99 www.emerginc.com
NEW Cellure RECODE Balancing Toner

With a fine mist, this toner hydrates skin, balances the surface and refines pores while it prepares skin for ideal moisture absorption. Skin looks and feels dewy, supple and luminous. Chamomile, antiseptic and aloe help calm and soothe irritation and help bind in hydration.  $65 www.cellureskincare.com
 Didn't get much sleep last night? Cover up unwanted dark circles and blemishes with Miracle Skin Transformer Treat & Conceal

Comes in 3 shades to treat, protect and enhance the skin.  Ideal to help the tired under eye area and hide blemishes fast!  We love this product.$36 www.miracleskintransformer.com
DNAEFG Renewal DNA Night Renewal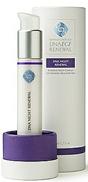 This rich night cream works to repair the signs of photo damage and aging skin with an advanced dual liposome delivery system for intensified nighttime recovery.  Provides complete support for cell repair activity during the sleep cycle for fresher, healthier skin.  $130 www.dnaegfrenewal.com
 Before applying makeup, prep skin with this all natural (celeb favorite) primer … emerginC Red Carpet Primer

We love this primer and cannot believe that we never tried it before. Not only will your face look flawless, (Hey, maybe with this I'll get myself a man!) but it feels so light and clean on your face. It's so worth the money and **cough** if I had a date for this Valentine's Day I would totally be using this. Hey, I'm using this ANYWAYS it's officially my favorite primer! :D $44 www.emerginc.com