I'm the sort of girl who is always on her feet. And I always end up with sore feet as a result of my heels. Thankfully I was introduced by a really sweet rep to Butterfly Twists!
What are Butterfly Twists? Well, they are foldable, light-weight, durable ballet flats that you can wear all over the town and all through the night!
The patented technique used to create the soles is tough enough to endure the most hectic of schedules and late nights with a process unlike any other that has been used by previous foldable flats brands.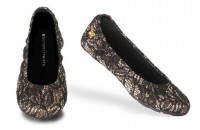 They sent me a pair of Valerie ballet flats to test out and can I just say that I LOVE them? They are so, so, so cute and they fit perfectly into my purse.
I love how comfortable and versatile these flats are. I can wear them for a night out or just when my feet need a break. I'd love to own more of these flats in all of their different styles and colors. With a variety to choose from you are sure to find a pair that you love.
Long-lasting, fun, chic and easy to pack for all your travels once you try a pair of Butterfly Twists you will be hooked! Be sure to check out the rest of their products. We love all of them!
The product for this review was provided to us free of charge for the purpose of product testing. This does not effect our opinion of the products in any way. We only write about products we personally like and use, regardless of how they were acquired.