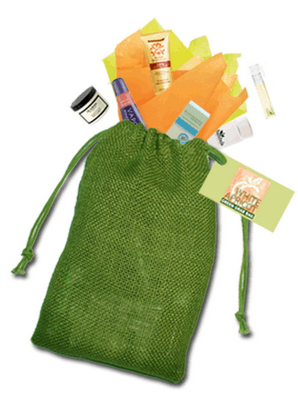 I LOVE eco-friendly products. That's no secret right??? So of course, I'm pretty excited about this next big "green" beauty find! 🙂
White Apricot, a site known for their eco-friendly fashion and beauty finds recently told us about their new web-site, Green Grab Bag. For just $15 a month (shipping is free!!), they will send you travel sized products of the best natural and organic; skin, makeup, and hair care products.
For the month of November, we received quite a few samples. Inside the bag was the-
Bambola Beauty: Acai Anti-Oxident Cleanser
Cocoon Apothecary: Rosey Cheeks Face Cream
Ferro Mineral Makeup: Light Medium Beige Ultimate Foundation
Maris Naturals Body Creme: Eucalyptus Body Creme
Dropwise Aromatic Mister: Room & Body Spray
Dr. Alkaitis Skin Care: Organic Nourishing Treatment Oil
Vapour Organic Beauty Multi-Use Blush in Spark
We where very impressed with all the products, but I really love the Vapour Organic Blush. It's AMAZING! It goes on perfectly and the end result? Utter perfection!
We like the green grab bag and love the products inside it, although I don't know if I would personally buy it every month. But maybe once in awhile for a special treat! 🙂
Will you try the Green Grab Bag?