I LOVE The Delacy Collection. They just launched their Holiday 2011 collection and I am in l.o.v.e with it! Â This collection is seriously drool worthy ladies!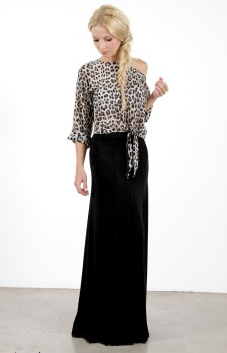 Personally my favorite from the collection is the Panel Maxi Skirt. This skirt is SO sweet! This long paneled jersey maxi skirt features a high waistline and covered elastic banding. It can also be worn as a strapless dress.
This is officially my favorite skirt. I have been wearing it with a crop top and heels and it's SO cute! I'm in love with it! It's sassy, sexy, and perfect for winter. It's warm and soft and you won't feel the cold in it.
This skirt comes in black and grey and in sizes xs-large. The top is sold separately. Â It's expensive, but well worth it. I plan on getting a maxi skirt in grey as well!
Be sure to check out all of their products on the web and check them out on Facebook as well.