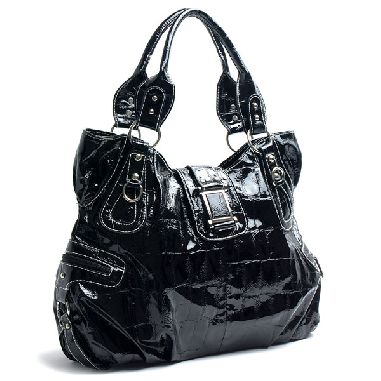 I kind of obess over handbags. However, I hate paying tons of money for them. But, thanks to Handbag Heaven I don't have to!
Handbag Heaven sells all sorts of bags in different colors and styles. From clutches, to hobos, to messenger bags, Handbag Heaven has them all! And my favorite part? All of these fabulous bags are affordably priced!
Every girl needs a fashionable handbag for fall, and what better way to get one then by buying a affordable, yet well made one????
My must have for this fall is the Carmela Patent Handbag. This beauty is such a cute handbag and is totally fashionable!
I'm in love with this purse. It holds all of my necessities and more. I love that it's so well made and that it looks super expensive, when it's not! This purse is only $49.95 and is totally worth the money!
This handbag resembles leather, and features silver accents and stitching. The handbag itself is fabulous! I love the pockets and I love how big and roomy it is! 🙂
Not only is this purse well made, but it also comes in four colors! Black, red, purple, and green. It is- 18″ L x 6″ W x 11″ H and has 10" double handles.
If you haven't checked out Handbag Heaven yet, then go check them out!
I was sent a sample in exchange for this feature, but all opinions are mine.