My hair is nice some of the time and then other day's my ends get all frizzy. I know, I know, I need to get a trim, but I've just been WAY to busy to hit the salon, and besides, I'm really starting to like my hair long. BUT, what's a gal to do? Thankfully, Dove saved the day.
I hate my messy ends. But since I've been using some AWESOME products from Dove, things have changed! 😉 Dove's new line of hair care products ffeatures Weightless Nutri-Oilâ"¢ technology – a unique bend of natural almond, coconut, and mineral oils – that penetrates hair to nourish without weighing it down for soft, smooth and shiny results. It's also the only U.S. brand to formulate hair care products with this particular combination of oils.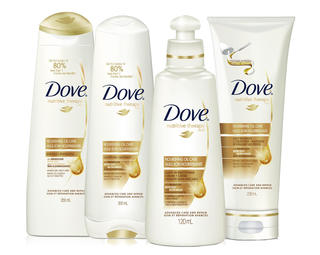 Check out the awesome products I have been using-
Dove Nourishing Oil Care Shampoo

First off, to say that this product is epic, is a understatement. This shampoo is amazing! My hair looks and feels great. It's well worth the money for the way your hair will look!
Dove Nourishing Oil Conditioner
Ever since I started using this product I really haven't had problems with tangles or frizz. This product does it's job, and it does it well!
Dove Daily Treatment Conditioner

This conditioner is epic. It helps your hair become softer and shiner.
Dove Nourishing Oil Leave-In Cream
This product ROCKS! I use it on my ends, and my ends no longer frizz or tangle. YAY! 🙂
Dove Nourishing Oil Anti-Frizz Serum

This product will help your hair look and feel it's best. Kiss that nasty frizz goodbye!
Want to love your hair? Then pick up these products from Dove at your local stores nationwide. (including Walmart, Target, among a few)
The product for this review was provided to us free of charge for the purpose of product testing. This does not effect our opinion of the products in any way. We only write about products we personally like and use, regardless of how they were acquired.