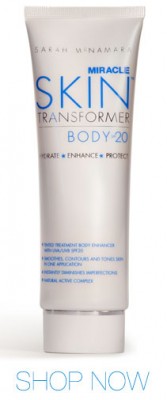 Miracle Skin Transformer, is a double-duty natural silicone based collection of prestigious skincare, offers up a new high-performance tinted treatment body enhancer.   Natural actives and antioxidants zero in on the body's skincare concerns to give skin a total transformation. It's not just another body moisturizer.   BODY SPF 20 instantly transforms the appearance of arms, legs and décolleté.   Skin looks smoother, firmer, radiant, and totally flawless.  For use all year round!
This product protects, softens, and transforms your skin! Not only does this product protect your skin from the sun, but it will also quench dry skin, preventing dull, flaky, dehydrated skin.
I'm in love with this product! It absorbs super fast and has a streak free finish. It sculpts, tightens, and tones your skin, naturally with Caffeine Encapsulated Microspheres, which target cellulite. Blue-Green Algae smoothes skin naturally with high levels of vitamin b and amino acids. Promote body circulation with Marine Algae from the French Polynesian islands for improved skin texture and tone.
Skin Transforming Shades-

In the Glow Enhancer and Bronze Enhancer shades, rich color mineral pigments instantly reduce the appearance of imperfections on the body.  The streak-free, easy to apply formula is meant for legs, arms, back and decollate. Anywhere you want to show off perfect, flawless skin. No need for self-tanners, heavy body makeup, or uneven tan lines.  As a super sheer formula, these two shades work for light and dark skintones.
Sheer Enhancer – The colorless version is ideal for men, or those that simply want a powerful daily body moisturizer all year round with SPF.
Available for $34.00 at: www.miracleskintransformer.com, Sephora, and Bergdorf Goodman.