Did you know? You can purchase the popular Miracle Skin Transformer's NEW Beauty To-Go at every Sephora store in the US.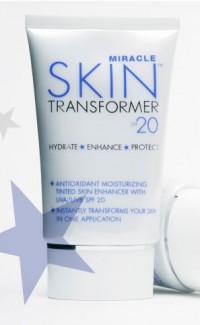 Beauty To-Go is a 25mL tube of the original Miracle Skin Transformer – the popular skin enhancer that started it all.  No other formula on the market offers powerful SPF UVA/UVB protection combined with natural silicones (not synthetic) and eco-friendly hydrating ingredients.  This complex tinted moisturizer immediately works to hydrate, enhance and protect in one long-lasting, one-step application leaving skin noticeably smooth, luminous and air-brushed in seconds.
Okay, I don't know how I never tried this product before. It's freaking perfection in a tube! It really is that amazing! It's everything that it is claimed to be and oh-so much more.
I tried this product on my face and was shocked. Know, my skin is pretty good to begin with, but when I used this product my face literally looked like something out of a magazine. I couldn't believe it! My skin looked incrediable!
I've been using this product non-stop and I can't believe the way my skin looks. I've replaced my favorite facial product with this one! It's SO much better. It's not too thick, and it's not too thin either. It's just right and you don't have to cake alot on your face to get results. I am SO pleased with this product. It's amazing!
I'm sworn over to this product. Not only does my face look amazing, but it's so easy to apply! I'm never using anything else again!
Be sure to watch Miracle Skin Transformer on the Dr Oz Show here.
Available at Sephora stores and online via www.sephora.com for $18.00
I was sent a sample in exchange for this feature, but all opinions are mine.