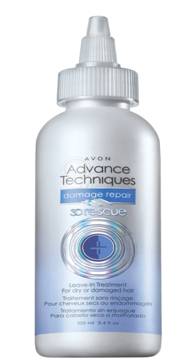 Avon came out with a new product called Advance Techniques 3D Rescue Treatment! It seeks out damage and goes below the surface to infuse moisture and strengthen hair from within. 360 Repair Technology repairs damage on every dimension – surface, core and ends. Avon's exclusive formula with fortifying nutrients targets all three types of damage caused by mechanical, chemical and thermal styling. 3D Rescue Treatment instantly repairs split ends.
Fergie Says: "Whether I'm on tour or at a photo shoot, my hair is constantly being styled. Advance Techniques 3D Rescue fixes that damage and keeps my hair from breaking – it looks and feels so much smoother and healthier ."
I NEVER wakeup with perfect hair. And unlike Fergie, I don't have a personal stylist. Even though I love my hair, it's soft, silky, and sexy. The problem? It's longish. And it's the longest it's ever been. And I don't want to cut it. The result? I have split ends. Yuck right? Yeah, I agree. I tried this product and was SO happy with the result. This product claims after three days it will instantly repair damage and your hair will look and feel stronger and softer.
Does it work? YEP! It sure does! I'm SO happy with it! my hair looks amazing and I'm in love with this awesome product! It's well worth the money!
For only $9.99 you can buy it exclusively through Avon Representatives. To locate an Avon Representative call 1-800-FOR-AVON or visit www.avon.com.
The product for this review was provided to us free of charge for the purpose of product testing. This does not effect our opinion of the products in any way. We only write about products we personally like and use, regardless of how they were acquired.