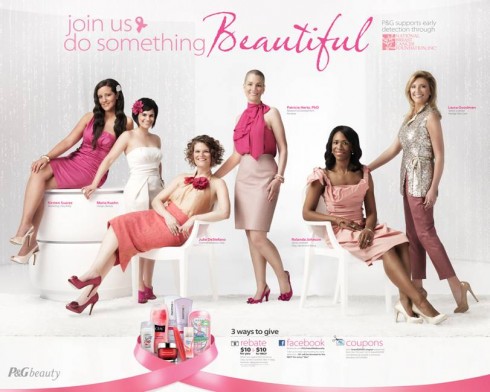 As a longtime supporter of P&G Beauty we thought that we would share about P&G Beauty's breast cancer awareness campaign.
Since 2008, P&G has been supporting the National Breast Cancer Foundation and its efforts to save lives and bring awareness to this life-changing disease. This year, the P&G Beauty campaign focuses on spreading the word on the importance of early detection through regular health screenings by sharing the real-life stories of 6 different P&G employees who have been impacted by breast cancer. These employees are featured in the advertorial below as well as on the P&G Beauty Facebook page.
And P&G is encouraging you to share any personal stories you've had with breast cancer on the newly-launched P&G Beauty on Facebook. By clicking on the Do Something Beautiful tab, you can read the Real Stories from Real Women slideshow from the P&G employees taking part in the campaign and comment to show support or share your own personal story. In addition, for every "like," P&G will donate $0.10 to National Breast Cancer Foundation (NBCF) to further promote early detection. How cool is that?
Here are some more ways that you can help support BCA via P&G……
o During the month of October, shoppers will receive a $10 rebate and will also trigger a $10 donation to NBCF with the purchase of $50 worth of P&G Beauty products, including Venus, Olay, Secret, CoverGirl, Nice 'n Easy, Pantene, Safeguard and Ivory.
o On Sunday, October 2 and Sunday, October 16, a GIVE Hope brandSAVER will be distributed in newspapers across the country, with discounts for P&G products, including Olay, Pantene, Crest and many more. For each GIVE Hope brandSAVER coupon redeemed, P&G will make a donation to NBCF.
Since 2008, P&G has contributed more than $1.7 million to NBCF to help support its efforts and save lives. This year's uncapped donation will give everyone the opportunity to directly increase the donation, allowing everyone to make a difference in the fight against breast cancer.