Love Clothing is a high fashion boutique that sells tons of amazing products! From boots to dresses they have it all! And, they are very inexpensive! Be sure to check out their fall collection here!
Love Clothing sells tons of amazing items, but I want to feature my favorite today. One of my favorite item's from their shop is the Women's Cream Rose Dress By Cushh. Check it out!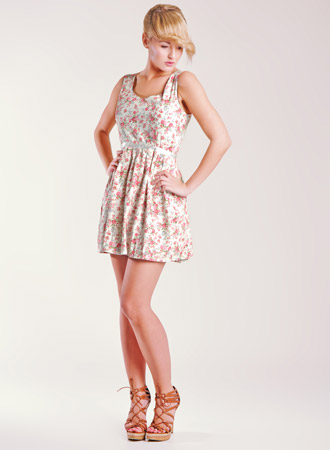 Isn't it drool worthy? It's so cute! I don't know about you, but I'm in love with this dress! It's so sweet and I love the floral print! It just makes the dress!
This sweet cream and rose print dress features a fitted waist with a contrast satin ribbon waist belt and full flare short skirt. It's girlie, but add a vintage cardigan, some wedges, and a pink pout and you are ready to steal the show!
Not only is this dress simply sweet, but it's very comfortable and fits me like a glove! I'm in LOVE with it!
Another great thing? I plan on wearing this dress with a cardi and legging so I can wear it into fall! To purchase your own dress then visit LoveClothing.com

I was sent a sample in exchange for this feature, but all opinions are mine.