Skinny Tees is a company that sells t-shirts, camisoles, and tank tops that are designed to make you appear two sizes smaller AND not to roll up! Â SO basically, you get a t-shirt/cami with a built in spandex, without the nasty spandex! Sounds great right?
Skinny Tees has shirts that are one size fits all- really- size 2 to 22, a huge selection of colors, styles, all at affordable prices! And a added bonus, these shirts make you look up to TWO sizes smaller! Made from 92% Nylon and 8% Spandex, this is a breathable, form fitting material. This material is stretchy, but the real difference is that it always goes back to its original size.
They have awesome products and they are perfect for fall as they can be used for layering peices, they can be worn by them selves, or with another shirt. Their products are perfect for fall because they act as shapewear without the shapewear!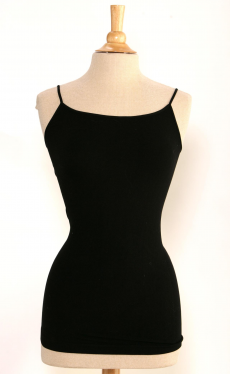 Let me just say that these cami's are very well made. They have yet to fall apart and I wear mine all the time! They are also super comfortable and are great to wear by themselves or to use as layering pieces. They fit me like a very comfortable glove! I want a Skinny Tee in every color!
I LOVE my Skinny Tee Camisoles! They are perfect for fall! Get your own tops at-Â skinnytees.com
I was sent a sample in exchange for this feature, but all opinions are mine.