I recently found a new addiction. What might it be you ask. Well, it's a company called Yes to Carrots! And I cannot say enough good things about this company! It rocks! I mean the products are outstanding and the customer service is out of this world! I got to try their SPF 15 skin care line and facial towelettes!
I LOVE that these products are all natural/eco-friendly! Key benefits of the SPF skin care line include-
Say Yes To SPF and protecting your skin with Yes To's SPF Skincare line! Yes To's line of SPF products will keep you covered head to toe from UVA and UVB rays, all while keeping your skin moisturized and hydrated. All products are free of parabens, phthalates and SLS, making it safe for even the most sensitive skin.
Yes To Carrots Hydrating Body Lotion with SPF 30-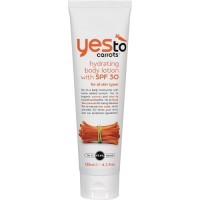 This body lotion is SO nice to use. It's not greasy at all and is quite thick. But that's a good thing. The lotion goes on very nicely and leaves your skin feeling soft and silky smooth! I'm in love with it!
Yes To Carrots Daily Facial Moisturizer with SPF 15-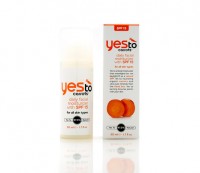 Can I just say I LOVE this facial cream? It's beyond wonderful! It's not greasy at all and I've been using it on my face with wonderful results! I mean honestly, it's just wonderful!
Yes To Carrots Lip Butter in Pomegranate with SPF 15-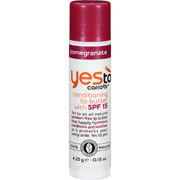 You all know I'm a lip balm addict right??? And this Pomegranate lip balm is AWESOME it smells and tastes amazing! I am in love with it!
Yes To Cucumber Facial Towelettes-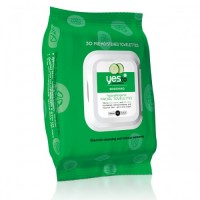 I have been looking for a all natural facial towelettes for a LONG time now. And I've found it! These towelettes are so wonderful! They smell exactly like cucumbers and they leave your face feeling refreshed and clean. These wipes are officially my favorite facial wipes EVER!
I am in love with Yes! To Carrots! And I am picking up some more of their goodies the next time I am at Target.
All products are available at Target stores nation wide.