Need some Spring beauty rehab? Then try these three products….

Design on the Vine Mini Slant Floral Tweezers-
These tweezers are wonderful! They pluck your eyebrows wonderfully. Even those little bitty hairs. I love em! They aren't your typical drugstore tweezers. These are well worth the money that you will pay for them.
Plus who wouldn't love that adorable flower design on them???? 😛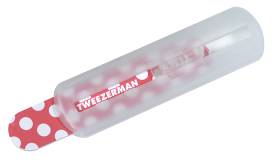 Zip File-
Need a good file? Then try this one! It's handy to have in your purse. Plus, it files down hang nails wonderfully! I've been keeping it in my purse and it's super handy! Plus I love that it's incased inside a plastic case so it won't break. Neat huh?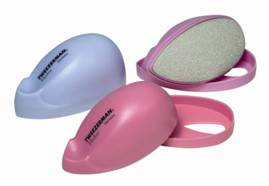 Pedro Callus Stone-
Want to keep your feet looking and feeling incredibly soft?  Then get your hands on Tweezerman's Pedro Callus Stone.  With its super-comfortable, ergonomic design that fits perfectly in the palm of your hand, this expertly crafted, genuine German-made ceramic stone reduces stubborn calluses while providing maximum control.
Conveniently sized for travel, dry, sandy vacation feet are no match for the Pedro Callus Stone. Available in three versatile colors: Pink, Lavender and Aquamarine; both girls and guys can bring sexy feet back!
What are your spring beauty shape up items????