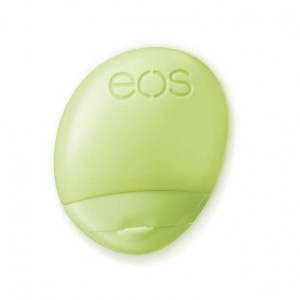 You all know that I recently know that I was introduced to EOS awhile back. And their newest hand lotion has given me yet another reason to love them! 🙂
The new EOS lotion comes inside one ADORABLE little bottle. It's almost egg shaped and is SO wonderful!
This little lotion is not greasy at all and absorbs fast into your hands/face. And it's so gentle that I have even used it on my face.
I loved the cucumber scent it's so fresh and clean! It smells SO good. The little bottle fits easily into your purse. And I love how handy it is to pull out. Plus, I love the fact that I can use it when I'm out and about.
Just remember that a little of this lotion goes a longgg way. So easy does it.
This wonderful little lotion comes inside two scents and is a 97% natural formula, paraben-free, and for all skin types. It's affordably priced at $3.99 and is available wherever beauty products are sold. Be sure to like EOS on facebook here.
The product for this review was provided to us free of charge for the purpose of product testing. This does not effect our opinion of the products in any way. We only write about products we personally like and use, regardless of how they were acquired.