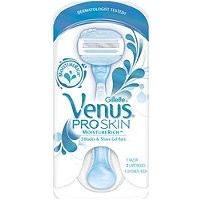 I love Venus's razors. Don't we all? So when I was offered a chance to try the new Gillette Venus Pro Skin Moisture Rich razor I was thrilled!
My thoughts:
I loved this razor! It made my legs feel silky smooth and soft. And I also loved that I didn't have to use shaving cream as it has built in body cream! I loved it! All you have to do is add water for a beautiful shave!
I think this razor totally rocks and I was really impressed with the Venus Pro Skin razor and will definitely buy it in the future! Kudos to Venus for bringing us yet another great shaving product!
You can purchase this razor at Walmart, Target, Walgreens, and wherever razors are sold!
The product for this review was provided to us free of charge for the purpose of product testing. This does not effect our opinion of the products in any way. We only write about products we personally like and use, regardless of how they were acquired.