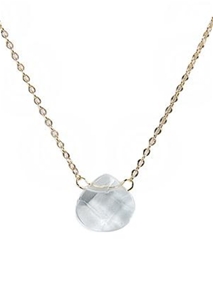 Style Tryst recently launched a new jewelry line that I love! I was given the opportunity to try one of their new jewelry pieces and I was really excited when their beautiful Pear Shaped Stone Necklace arrived in my mail box! (I love jewelry if you can't tell!)
This necklace is really quite beautiful! I love that you can adjust the length to make it however long you want it. That a huge plus for me! The stone is beautiful and it goes with almost everything in my wardrobe. I love that too! 😉
All in all I'm very pleased with the high quality necklace that Style Tryst sent me and I highly recommend them as a great place to buy all your jewelry. By the way they package things lovely!
You can buy your own Pear Shaped Stone Necklace for $48.00 here. It comes in three different colors- turquoise, clear, and pink.
The product for this review was provided to us free of charge for the purpose of product testing. This does not effect our opinion of the products in any way. We only write about products we personally like and use, regardless of how they were acquired.